Calendar of Events Import
Member Import
Welcome new members for the month of October! The Chamber Means Business!



Physicians Urgent Care
Tony Burns
Website
tonyb@physiciansurgent.com
Join Date: 10/01/2014
New Article
Looking to get more out of your social media pages? Have we got a deal for you!


Boulder City Social is offering Chamber members an incredible deal to help get your pages working for you! Click here for more info on how you can secure your private session!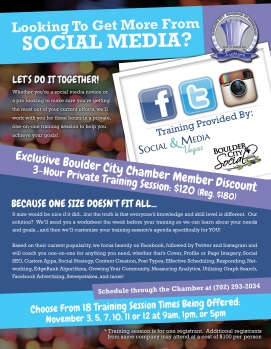 New Article
Measure 3, also known as the Margin Tax Initiative, is an important measure on this year's ballot.
This measure drastically affects businesses of all sizes and as voters in Nevada, you have a powerful voice. The Chamber Board has prepared two summaries with extensive research completed to help summarize both positions. Included are also various websites where information can be found in order to make an informed decision on the measure. Please note, the Chamber does not take a position on any political matter; these are merely summaries provided to you, our members, to assist in making an informed decision and having your voice heard.


Click here

for the summary AGAINST (no) the measure.

Click here

for the summary SUPPORTING (yes) of the measure.

Here are some additional resources:
Coalition Against the Margin Tax