Leadership West Awards Celebration
06/05/2015
06:00 PM - 09:00 PM M
Wigwam Resort
300 East Wigwam Blvd
Litchfield Park, AZ 85340
Leadership West will honor the twelve finalists for the inaugural Leadership Awards Celebration on Friday, June 5th at 6 PM at the Wigwam Resort in Litchfield Park. Join Emcee Paul Horton, CBS 5 Morning News host, and West Valley leaders and guests for the dinner and celebration of the finalists' accomplishments and the graduation and induction into the Leadership West Alumni Association (LWAA) of Class XXI. Open to the public. Since its inception in 1993, Leadership West has engaged, informed and inspired proven leaders in business, nonprofits and government to leverage their time, talents and leadership capital to enhance the quality of life in the Phoenix area's West Valley. With more than 400 alumni educated on issues facing their communities, the West Valley, Arizona and the nation, Leadership West brings the "best and the brightest" together to solve community problems. Join the celebration highlighting the accomplishments of these leaders and what they have developed to improve the West Valley's quality of life. For information, call 623-498-0625 or visit www.leadershipwest.org. Date: June 5, 2015 Time: 6:00 pm - 9:00 pm Location: 300 East Wigwam Blvd. Litchfield Park, Arizona 85340 Tickets: $55/ Non- LWAA per person | Comp - $45 LWAA (based on membership level) Deadline: May 29, 2015 Attire: Business or Cocktail
Groundbreaking Ceremony - SKYLINE REGIONAL PARK
06/10/2015
09:00 AM - 11:00 AM M
Skyline Regional Park
Watson Road, 1-1/2 miles North of I-10
Buckeye, Az 85326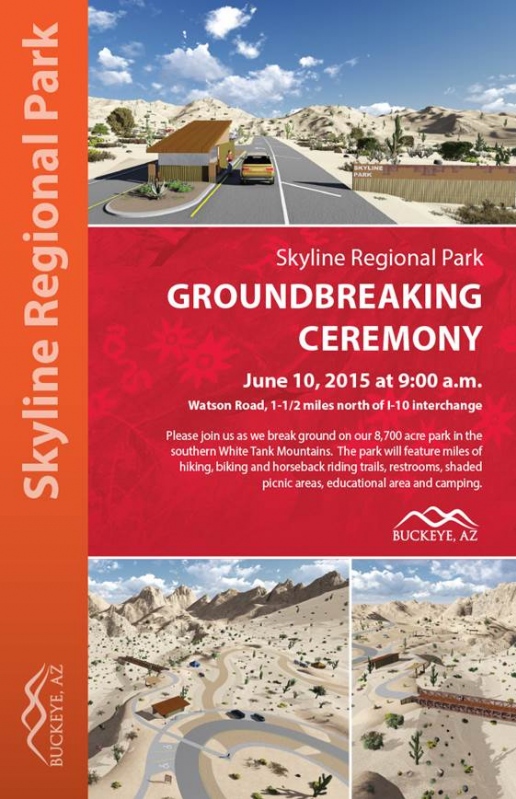 Grand Opening Integrity First Financial Group Tempe Location
06/11/2015
05:30 PM - 08:00 PM M
Integrity First Financial Group
4535 S. Lakeshore Drive Suite 1
Tempe, Az
Food and Refreshments will be served

Raffles and Door Prizes

RSVP by June 1st
Cheri Castricone 602-327-0656
Business and Entrepreneurship Expo
06/13/2015
10:00 AM - 01:00 PM M
Buckeye Public Library Coyote Branch
21699 W. Yuma Road
Buckeye, Az 85326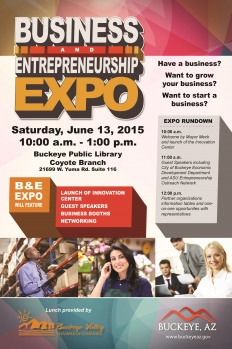 Flag Day- Buckeye Elks Lodge #2686
06/13/2015
09:00 AM - 10:00 AM M
Buckeye Elks Lodge # 2686
109 N 5th Street
Buckeye, Az 85326


Tom Jones Ford Grand Opening!

June 17, 2015

10:00 AM - 12:00 PM


Old Fashioned Independence Day Celebration
07/04/2015
06:00 PM - 09:30 PM M
Youngker High School
3000 S. Apache Rd
Buckeye, AZ 85326
Join the City of Buckeye and Main Street Coalition for some fabulous fireworks on the 4th of July!

This event will include fun family activities, All-American eats and treats! Some activities may require a fee to participate, however, admission is free to attend.

The event will be hosted once again at Youngker High School - 3000 S. Apache Rd. The doors will be open by 6 pm with the firework display beginning at 9 pm. This is one celebration you won't want to miss!