JOB FAIR
09/29/2015
10:00 AM - 02:00 PM M
Buckeye City Hall
530 E. Monroe Avenue
Buckeye, AZ 85326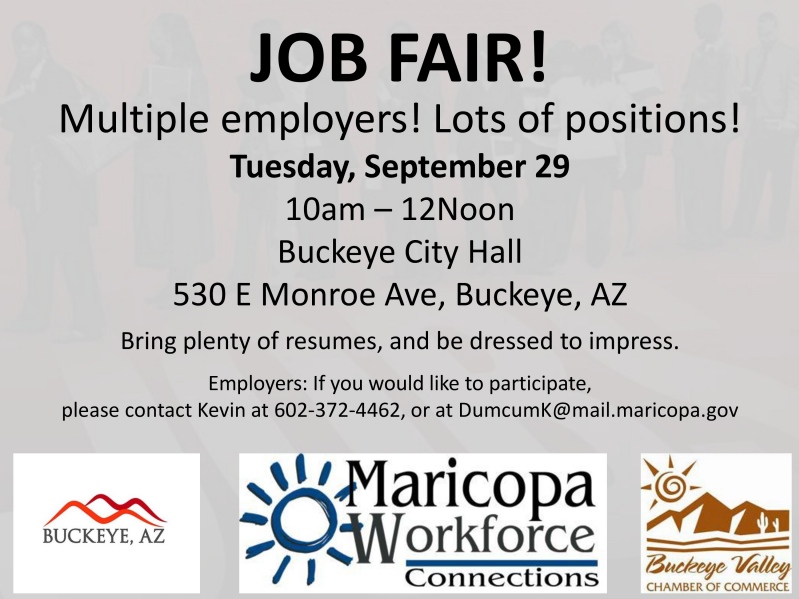 Hope for Horses 3rd Annual Gala
10/03/2015
05:00 PM - 09:00 PM M
Carefree Resort Conference Center
37220 N. Mule Train Road
Carefree, AZ 85337
Triple R Horse Rescue is a 501(c) charitable organization staffed completely by volunteers. This is their annual fundraiser.

Buckeye Oktoberfest
10/09/2015- 10/11/2015
09:00 AM - 04:00 PM M
6th Street Plaza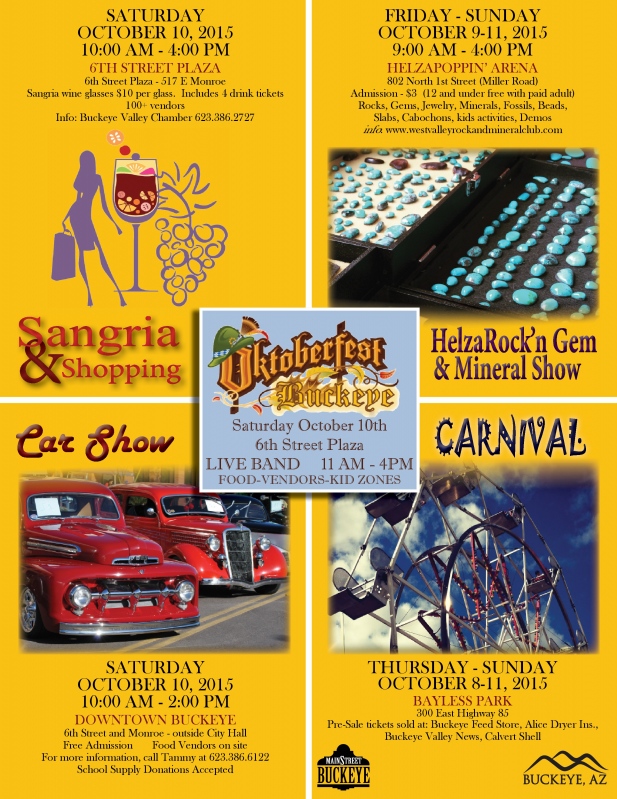 see email
Sangria & Shopping
10/10/2015
10:00 AM - 04:00 PM M
6th Street Plaza
517 E Monroe Ave
Buckeye, Az 85326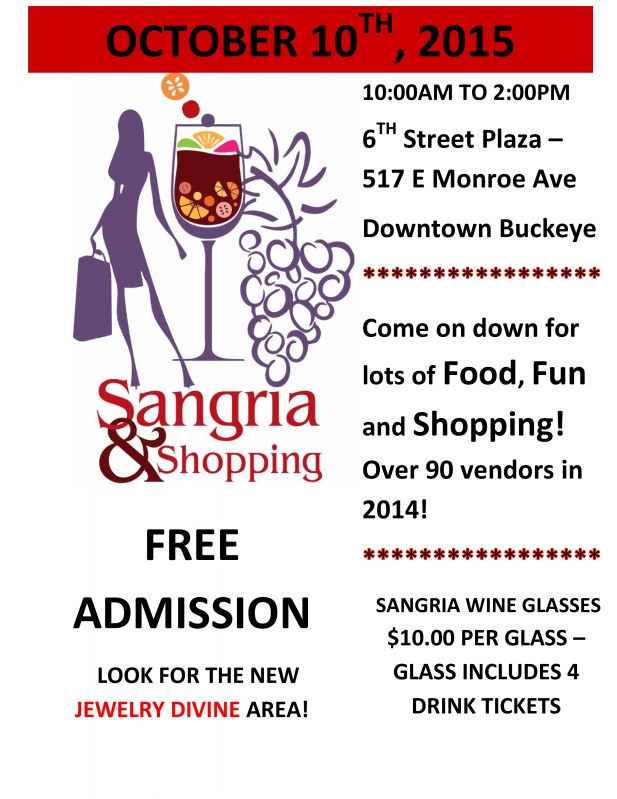 G.A.I.N.
10/17/2015
05:00 PM - 08:00 PM M
Lowe's Parking Lot
Sundance Towne Center 700 S Watson Road
Buckeye, AZ 85326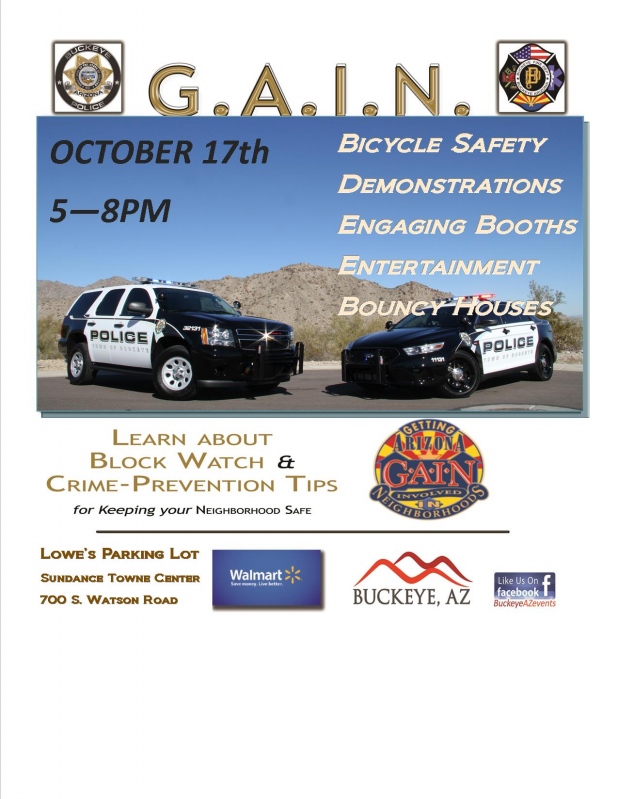 Relay For Life of Buckeye
11/07/2015- 11/08/2015
06:00 PM - 11:30 PM M
Youngker High School
3000 S Apache Rd
Buckeye, AZ 85326
Relay For Life is a life-changing event that gives everyone in communities across the globe a chance to celebrate the lives of people who have battled cancer, remember loved ones lost, and fight back against the disease.

At Relay, teams of people camp out at Youngker High School and take turns walking or running around a track or path. Because cancer never sleeps, Relays are overnight events up to 12 hours in length. Relay-ers do not have to walk all night, but each team is asked to have a representative on the track at all times during the event.

Teams come from businesses, families, clubs, friends, hospitals, schools, churches, and service organizations. Each team is enouraged to raise money that goes towards the programs and services the American Cancer Society offers and funds critical cancer research.

For more information please visit www.relayforlife.org/buckeyeaz
Community Yard Sale
11/07/2015
08:00 AM - 12:00 PM M
Buckeye Town Park
207 N. 9th Street
Buckeye, Az 85326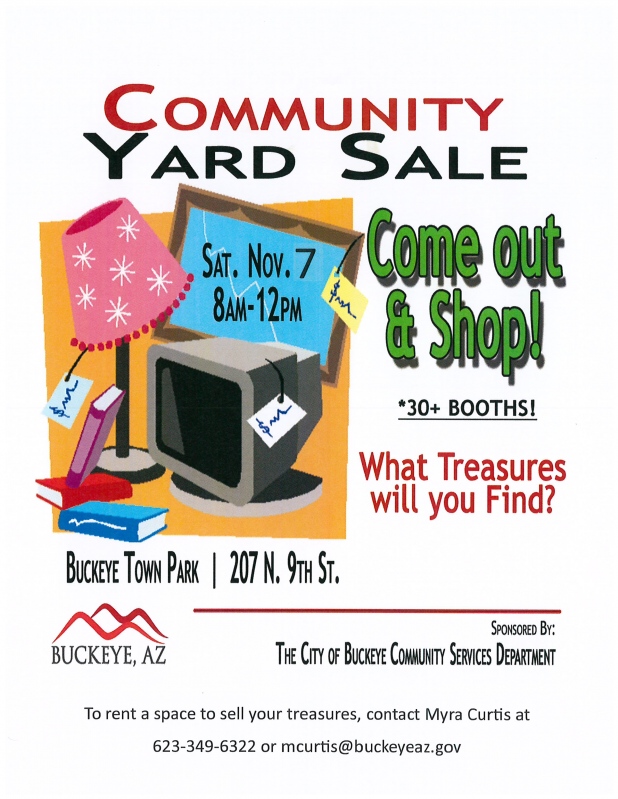 Veterans Day Parade
11/07/2015
10:00 AM - 12:00 PM M
Parade Route along Monroe Ave
Monroe Ave
Buckeye, Az 85326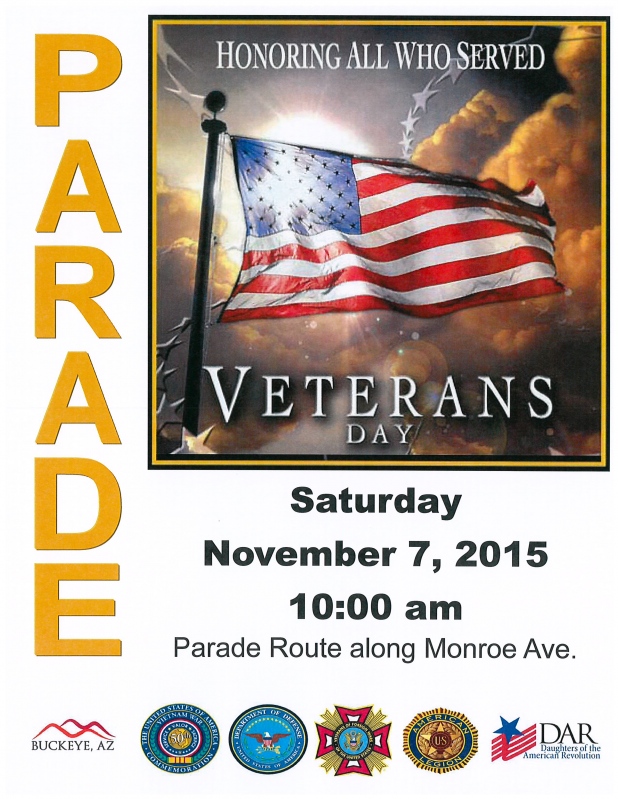 VFW Golf tournament
11/14/2015
07:00 AM - 01:00 PM M
sundance golf course
sundance Pkwy
Buckeye, AZ 85326
4th annual VFW golf tournament. 4 man best ball. Shotgun start.
Buckeye Demolition Derby Fall 2015
11/21/2015
07:00 PM - 10:00 PM M
Helzapoppin Rodeo Arena
Miller Road South of Baseline
Buckeye, Az 85326