Buckeye Oktoberfest
10/09/2015- 10/11/2015
09:00 AM - 04:00 PM M
6th Street Plaza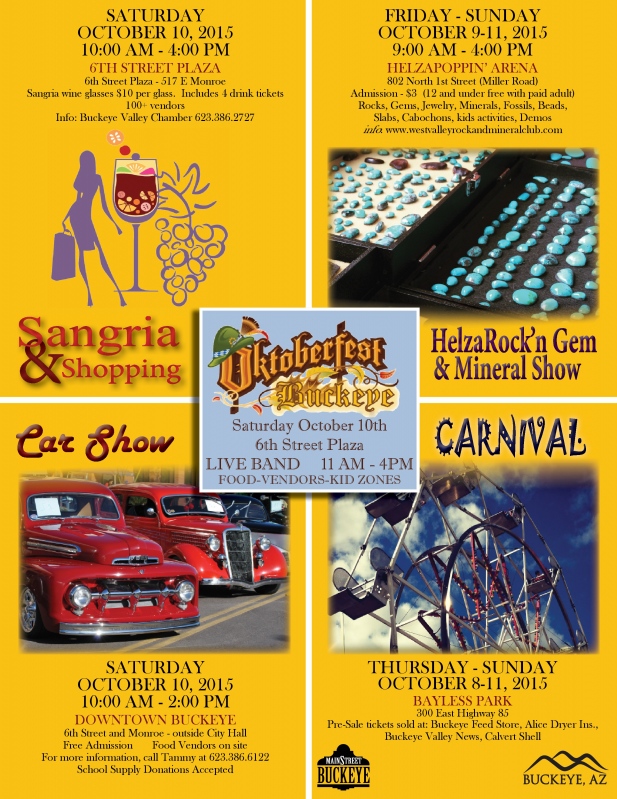 see email
Sangria & Shopping
10/10/2015
10:00 AM - 04:00 PM M
6th Street Plaza
517 E Monroe Ave
Buckeye, Az 85326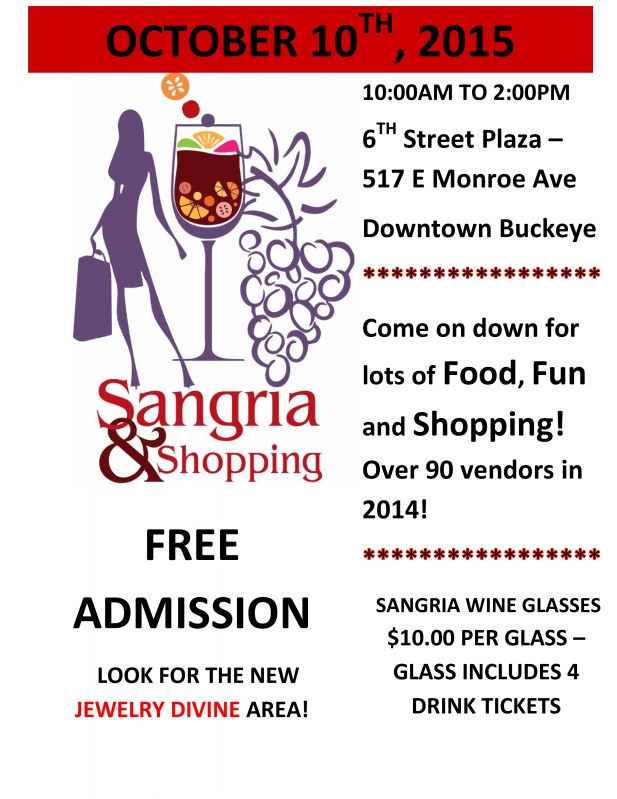 Picnic in the Park Concert Series & Open House
10/10/2015
11:00 AM - 03:00 PM M
Verrado's Park Meadows and Cambridge Plaza
1829 N Verrado Way
Buckeye, AZ 85396

3 Saturdays Oct 10 * Oct 24 * Nov 7: 11:00 a.m. to 3:00 p.m.

Join us for three days of fun in the sun. From 11am to 3pm, Verrado will be going off with tasty food trucks, a rockin' fall concert series, and trolley tours of our charming neighborhoods, amenities and model homes. Beautiful homes, good music, good food and great company is what being Very Verrado is all about! We've got plenty of bounce houses, and a DJ with jammin' tunes and fun contests for the kids too. Park activities will be held in two of Verrado's 72 vibrant parks, including Cambridge Plaza and Park Meadows in Verrado's Heritage District.
Start your day at Verrado Coffee Co., and pick up a free open house tour and event map to find over 50 new homes and models by 12 top home builders. Take 1-10 west, exit Verrado Way.
G.A.I.N.
10/17/2015
05:00 PM - 08:00 PM M
Lowe's Parking Lot
Sundance Towne Center 700 S Watson Road
Buckeye, AZ 85326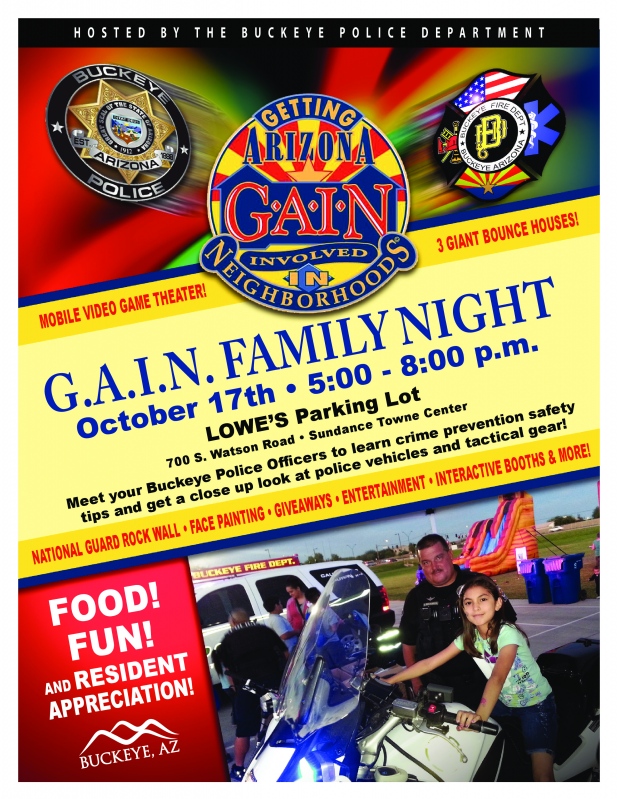 Relay For Life of Buckeye
11/07/2015- 11/08/2015
06:00 PM - 11:30 PM M
Youngker High School
3000 S Apache Rd
Buckeye, AZ 85326
Relay For Life is a life-changing event that gives everyone in communities across the globe a chance to celebrate the lives of people who have battled cancer, remember loved ones lost, and fight back against the disease.

At Relay, teams of people camp out at Youngker High School and take turns walking or running around a track or path. Because cancer never sleeps, Relays are overnight events up to 12 hours in length. Relay-ers do not have to walk all night, but each team is asked to have a representative on the track at all times during the event.

Teams come from businesses, families, clubs, friends, hospitals, schools, churches, and service organizations. Each team is enouraged to raise money that goes towards the programs and services the American Cancer Society offers and funds critical cancer research.

For more information please visit www.relayforlife.org/buckeyeaz
Community Yard Sale
11/07/2015
08:00 AM - 12:00 PM M
Buckeye Town Park
207 N. 9th Street
Buckeye, Az 85326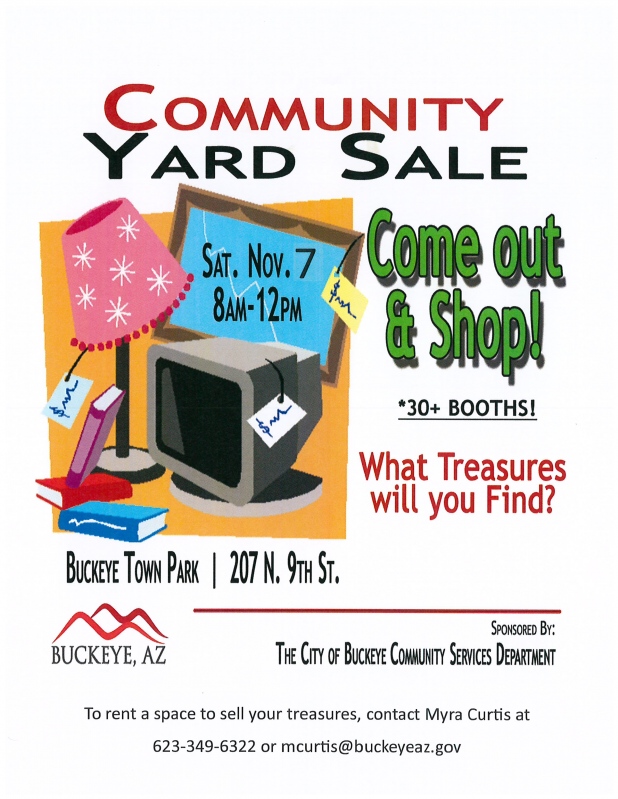 Veterans Day Parade
11/07/2015
10:00 AM - 12:00 PM M
Parade Route along Monroe Ave
Monroe Ave
Buckeye, Az 85326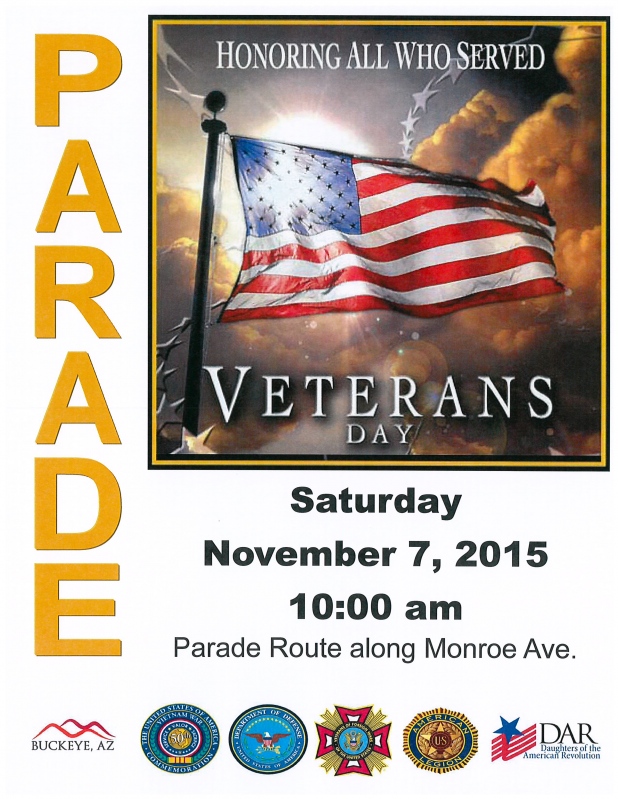 VFW Golf tournament
11/14/2015
07:00 AM - 01:00 PM M
sundance golf course
sundance Pkwy
Buckeye, AZ 85326
4th annual VFW golf tournament. 4 man best ball. Shotgun start.
Buckeye Demolition Derby Fall 2015
11/21/2015
07:00 PM - 10:00 PM M
Helzapoppin Rodeo Arena
Miller Road South of Baseline
Buckeye, Az 85326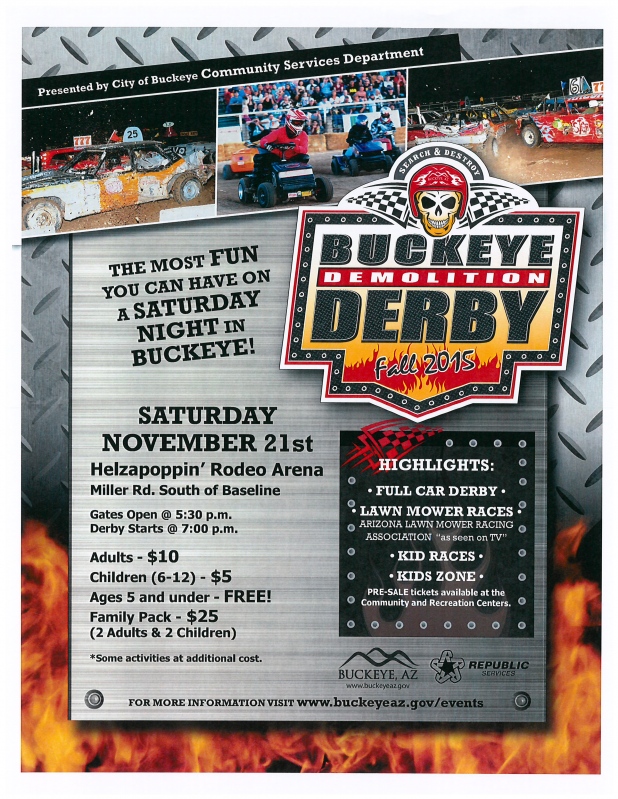 Windmill Village Community Holiday Event
12/05/2015
04:00 PM - 08:00 PM M
Windmill Village Community
Windmill Village Blvd
Buckeye, Az 85326