Watoto Children's Choir
01/05/2016
07:00 PM - 09:00 PM M
Liberty Elementary School Gymnasium
7598 S. Liberty School Road
Buckeye, AZ 85326
"Watoto Children's Choir"
The Date: Tuesday, January 5, 2016
The Time: 7:00 pm
The Location: Liberty Elementary School Theater/ Gymnasium
(see map) Directly across from Liberty United Methodist Church.
7598 S. Liberty School Rd., Buckeye, AZ 85326
No Admission. A Free Will Offering Will be taken.
For More Information: 623-386-4090
The Watoto Childrens' Choir is from Kampala, Uganda and was created by visionaries, Gary and Marilyn Skinner. They started a community church in 1984 to serve the needs of a war torn Uganda. Their initial focus was as an International HIV/Aids organization that met the housing needs of orphaned children. Each of the children in the choir has suffered the loss of their parents either through war or disease. As members of the choir, the children are exposed to other cultures, broadening their worldview. It also gives them confidence and boldness and helps them rise up out of their own situations of sadness and despair. An experience you'll never forget, underscored with the original sounds and rhythms of Uganda.
www.watoto.com/the-choir

Skyline Regional Park Grand Opening Celebration
01/09/2016
10:00 AM - 02:00 PM M
Skyline Regional Park
2600 N. Watson Road
Buckeye, Az 85326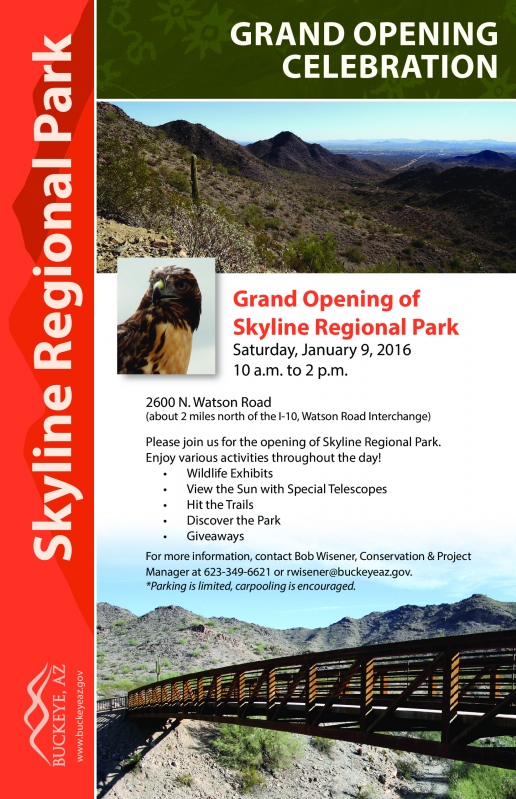 BBQ Dinner Friends of the Buckeye Public Library
01/29/2016
06:30 PM - 08:30 PM M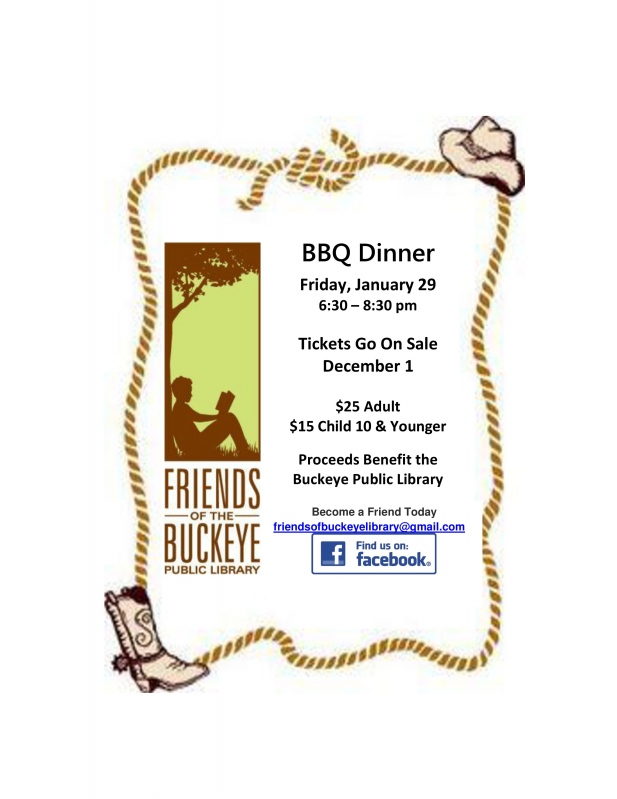 Buckeye Lucky Duck Race
01/30/2016
10:00 AM - 04:00 PM M
Buckeye Canal
416 N 1st Street
Buckeye, Az 85326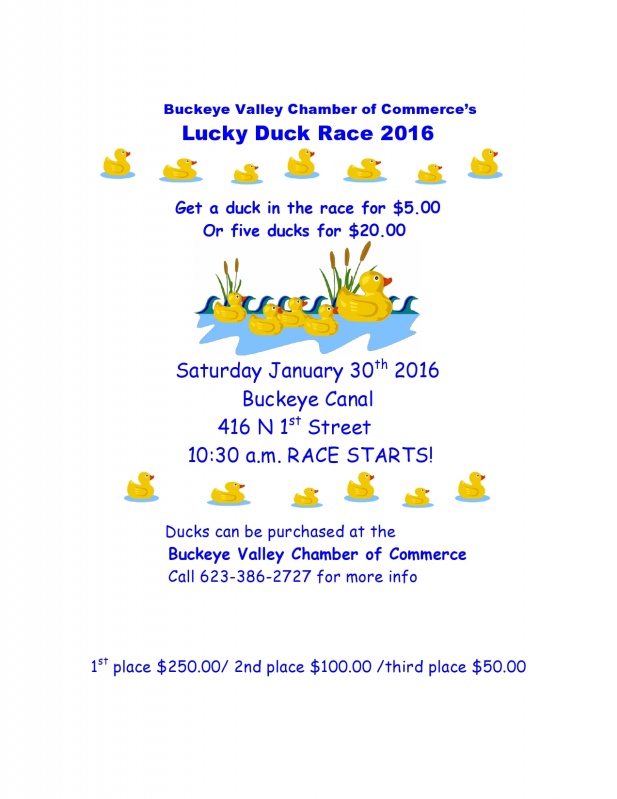 Buckeye Days
01/30/2016- 01/31/2016
09:30 AM - 05:00 PM M
Buckeye Mainstreet
Monroe Ave
Buckeye , Az 85326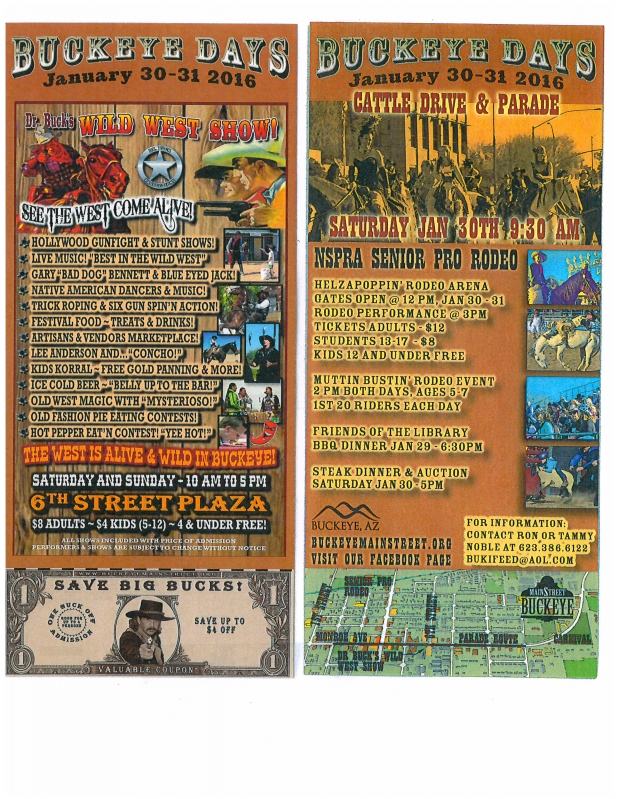 Buckeye Air Fair
02/06/2016
09:00 AM - 03:00 PM M
Buckeye Municipal Airport
3000 S Palo Verde Rd
Buckeye, AZ 85326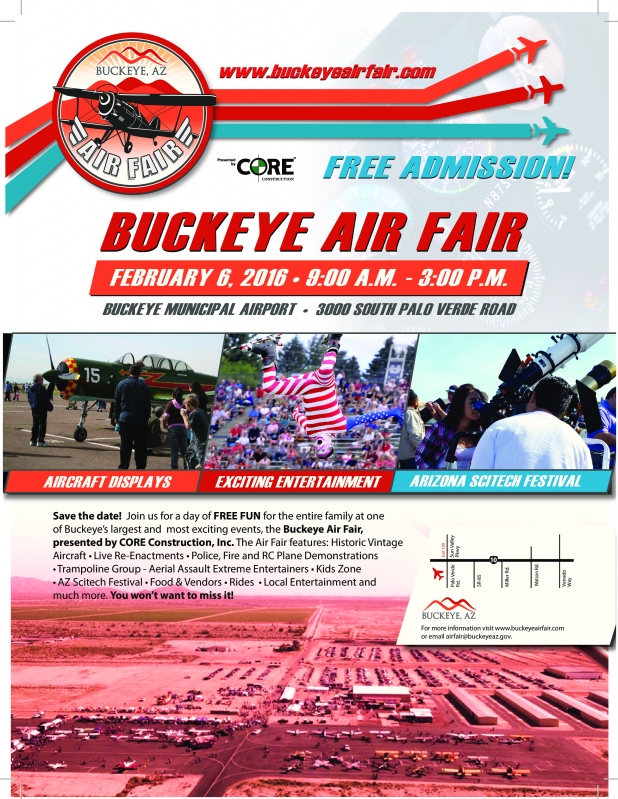 Buckeye Air Fair is a day of fun for the whole family featuring a variety of aircraft-related events and activities that are as exciting as they are educational. At the fair's Science & Technology expo, attendees can view astronomy, science and aviation exhibits, aircraft displays and demonstrations, police & fire demonstrations. The festival also provides fun rides in biplanes, hot air balloons and helicopters for festivalgoers with a love of heights. For children, the festival has a special Kids Zone and interactive science, math and technology activities as part of its annual Sci Tech Festival.

For more information go to www.buckeyeaz.gov/events
Buckeye's Veterans Lift Up Event
02/13/2016
08:00 AM - 02:00 PM M
Odyssey High School
1495 S Verrado Way
Buckeye, Az 85326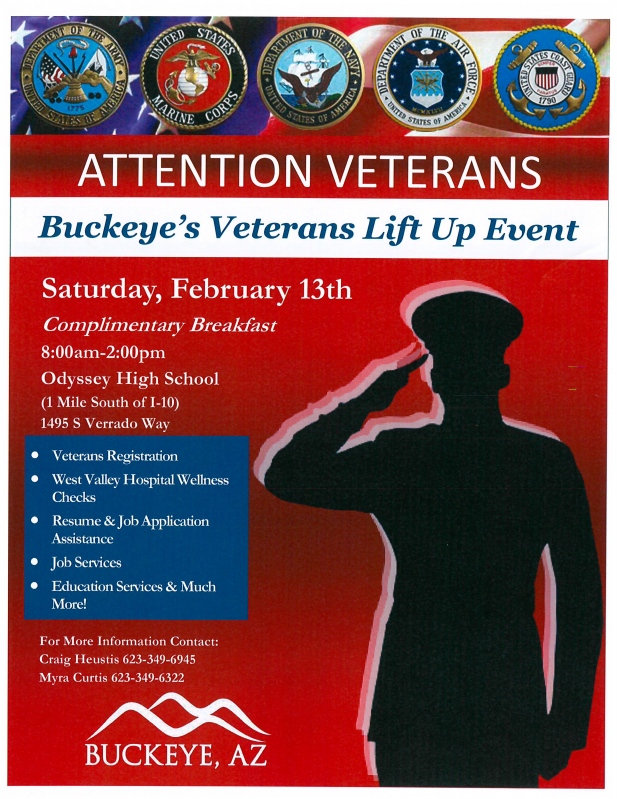 Dog Days of Buckeye
03/05/2016
09:00 AM - 02:00 PM M
Sundance Park
22865 W Lower Buckeye Rd
Buckeye, AZ 85326
Buckeye has Gone to the Dogs!

3rd Annual Dog Days of Buckeye

Saturday, March 5th 9am-2pm at Sundance Park - 22865 W. Lower Buckeye Rd.

Come out for a dog-gone good time!
Phoenix Disc Dogs
Buckeye K-9 Unit
Pet Health, Nutrition & Education
HALO & B.A.R.K. Animal Rescue
7th Annual Chihuahua Races
Doggie Resorts & Dog Sitting
Dog Photos & Selfies
Dog Tricks, Activities & Fun
Food, Drink & More Fun!