49th Annual Melodrama
04/01/2016- 04/02/2016
07:00 PM - 09:00 PM M
Youngker High School
3000 S. Apache Rd
Buckeye, AZ 85326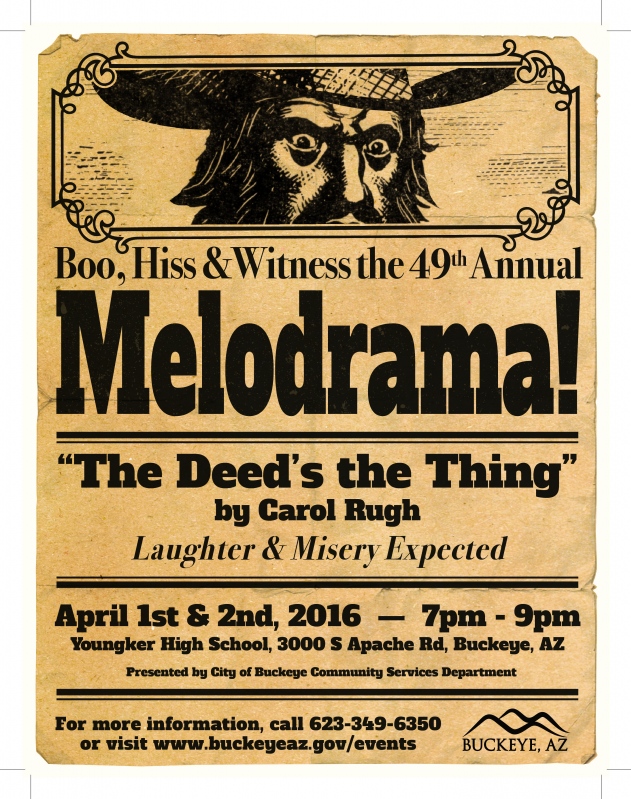 Boo, Hiss & Witness the 49th Annual Melodrama!

"the Deed's the Thing" by Carol Rugh - Laughter and Misery Expected

For more information, call 623-349-6350 or visit www.buckeyeaz.gov/events
Spring Gamer Tournament
04/02/2016
12:00 PM - 03:00 PM M
Game Shuttle
to be determined
Buckeye, Az 85326
Booth spaces acailable $20 - Sponsorships start at $50.00

Proceeds will benefit Outstanding S.T.E.M. Scholar Scholorships for local Buckeye Students

We are counting on community involment to make this a success. Please call today to be a part of this worthwhile event!

John 602-697-9264 john@buckeyeparty.com
Arbor Day Celebration
04/22/2016
08:00 AM - 10:00 AM M
Town Park
207 N 9th St
Buckeye, AZ 85326
The Arbor Day Celebration provides a great opportunity to learn about tree planting, maintenance, and irrigation, as well as, practices that should not be part of a maintenance program.

For more information call 623-349-6605 or visit www.buckeyeaz.gov/events

Concert in the Park - HWY 85
04/22/2016
07:00 PM - 08:00 PM M
Festival Foothills Park
26252 W Desert Vista Blvd.
Buckeye, AZ 85326
Come on out and enjoy great music and entertainment while being outdoors in your neighborhood.

For more information call 623-3496322 or visit www.buckeyeaz.gov/events
Buckeye Farmers Market
04/23/2016
09:00 AM - 01:00 PM M
Sundance Park
22865 W Lower Buckeye Rd
Buckeye, AZ 85326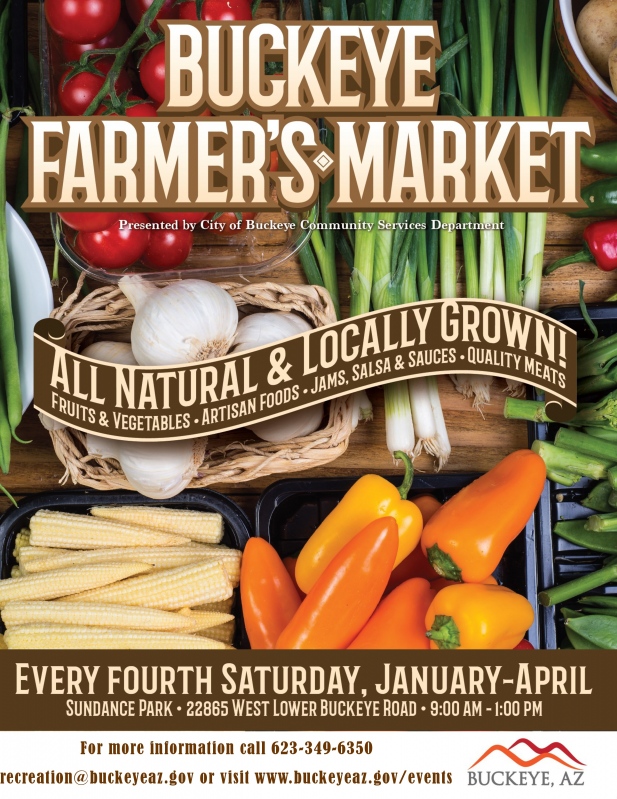 Come out a shop at the your local Farmers Market. Fresh produce, quality meats, sauces, salsas and spices will be available for purchase.
Concert in the Park - Come Back Buddy
04/29/2016
07:00 PM - 08:00 PM M
Tartesso Sports Park
30300 W Tartesso Parkway
Buckeye, AZ 85326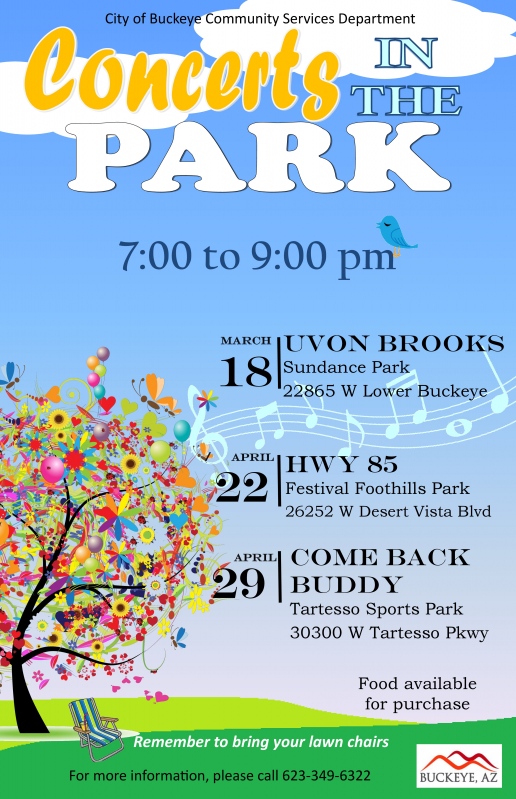 Come on out and enjoy great music and entertainment while being outdoors at your neighborhood park.

For more information call 623-3496322 or visit www.buckeyeaz.gov/events
The Foundation for Education for BESD Gala
04/30/2016
05:30 PM - 11:00 PM M
6th St Plaza
1st Annual Gala to benefit the Buckeye Education Foundation--drinks, dining and dancing at the 6th Street Plaza.