2016 BULK TRASH PICKUP SCHEDULE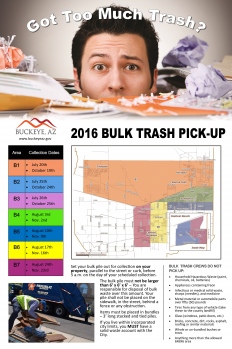 Christmas in July 2016
07/16/2016
09:00 AM - 03:00 PM M
Liberty United Methodist Church
7598 South Liberty School Rd.
Buckeye, AZ 85326
Christmas in July 2016
Christmas Decorations, Arts & Crafts. Free to the public.
9 a.m.- 3 p.m Saturday, July 16
Liberty United Methodist Church
7598 S Liberty School Rd, Buckeye, AZ 85326

Buckeye Super Heroes A Learning "Cause"
07/23/2016
07:30 AM - 11:30 AM M
Buckeye Elementary School Gym
210 South 6th Street
Buckeye, Az 85326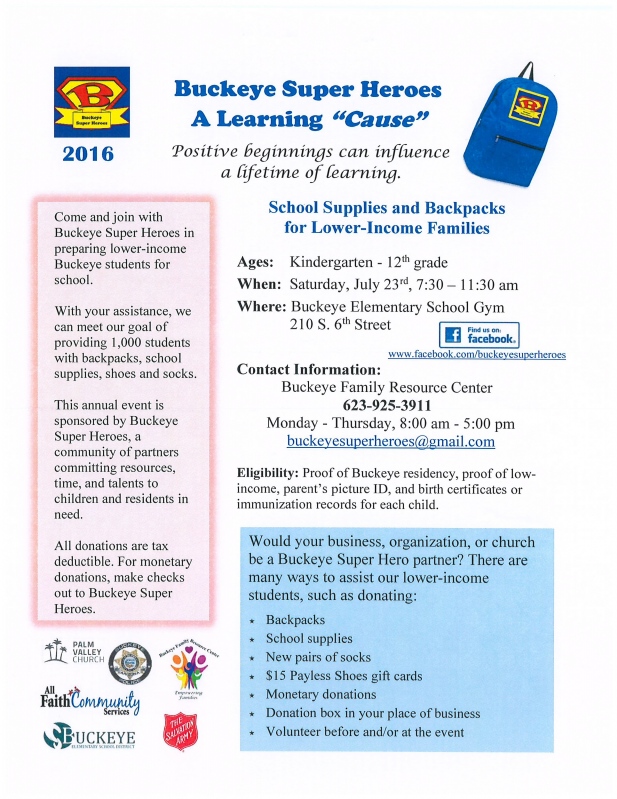 Quarter Auction Craze
08/26/2016
06:00 PM - 09:00 PM M
Dr. Saide Recreation Center
1003 E Eason Ave
Buckeye, AZ 85326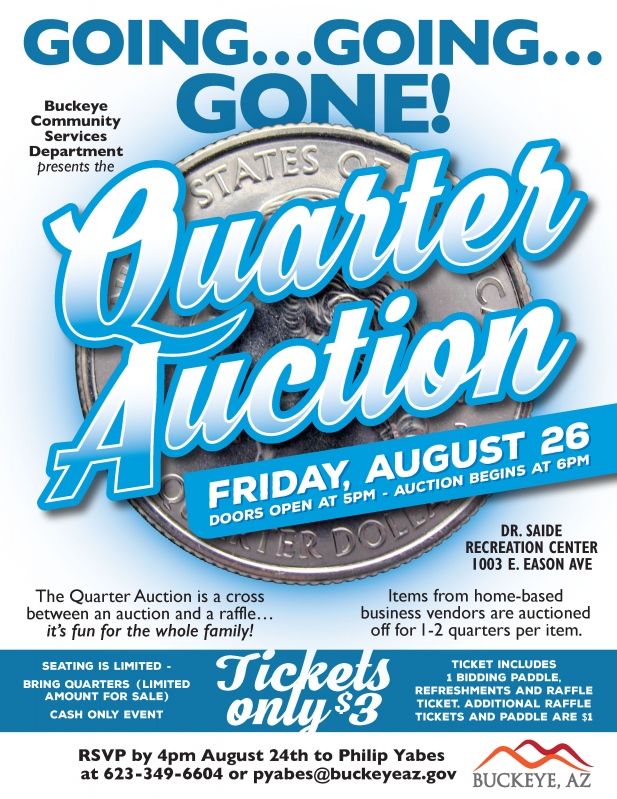 The Quarter Auction is a cross between an auction and a raffle…it's fun for the whole family!

Entrance Fee Includes
1 bidding paddle, refreshments and raffle ticket. additional raffle tickets and paddle are $1
Seating is limited - Bring quarters ( Limited amount for sale ). This is a cash only event.
Poker Tournament- American Legion Post 53 Buckeye
09/10/2016
04:00 PM - 10:00 PM M
402 East Narramore
Fundraiser Poker tournament
Fundraiser Spaghetti Dinner & POW/MIA Recognition
09/16/2016
05:00 PM - 07:00 PM M
American Legion Post 53
402 East Narramore
Buckeye, AZ 85326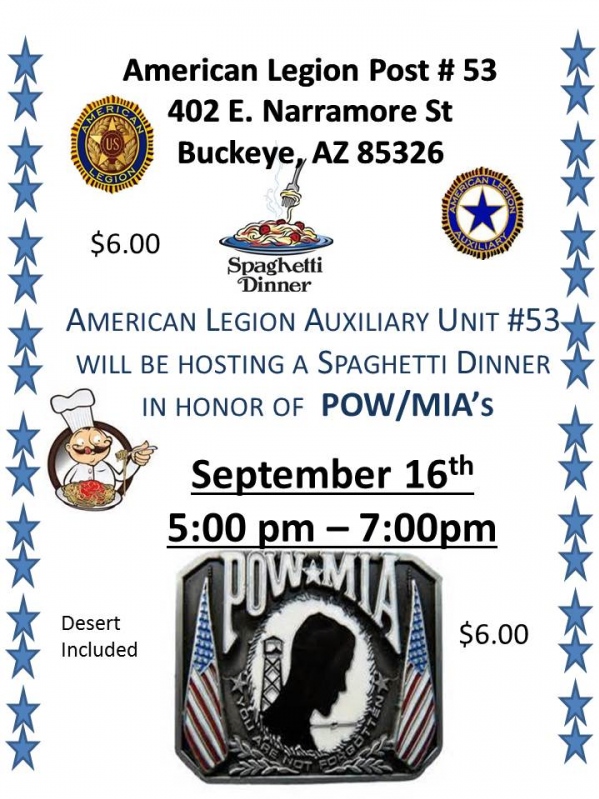 Amer. Legion Auxiliary Fundraiser Spaghetti Dinner & POW/MIA Recognition
Tour De Tonopah
10/01/2016
07:00 AM - 02:00 PM M
Tonopah Valley High School
38201 W Indian School Road Interstate 10 & Wintersburg Road
Tonopah, AZ 85323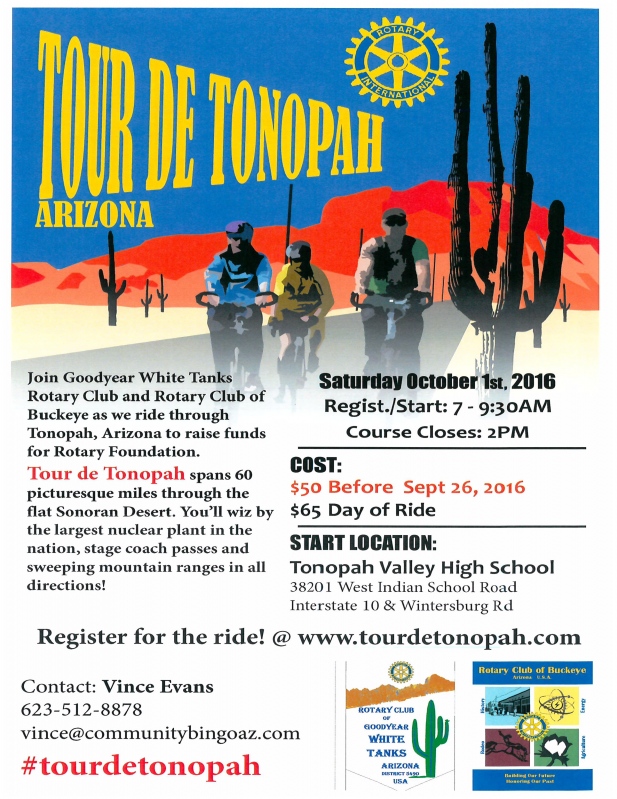 BUCKEYE OKTOBERFEST
10/08/2016
10:00 AM - 04:00 PM M
6th Street Plaza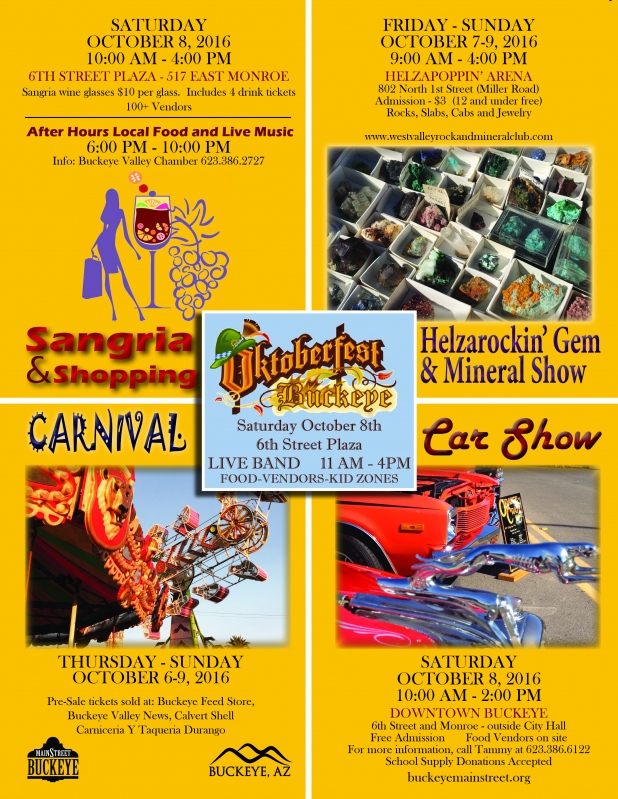 Relay for Life of Buckeye
10/22/2016
03:00 PM - 11:45 PM M