Fitness in the Park
08/22/2016
06:30 PM - 07:30 PM M
Sundance Park
22865 West Lower Buckeye RD
Buckeye, AZ 85326
Fitness in the Park Returns this August

Be Fit, Be Healthy, Be You! Fitness in the Park returns to Sundance Park in Buckeye this Fall starting the week of August 22. Fitness in the Park is FREE community fitness program that is welcoming to all ability levels. Workouts are instructed by professional instructors and range from yoga, Zumba, PiYo to CrossFit. Join us and we can help achieve your fitness goals.

This ongoing fitness program will be offered every Monday through Thursday from 6:30 to 7:30 p.m. at Sundance Park (22865 W Lower Buckeye RD). Monday is Ignite Yoga; Tuesday give the Pilates yoga combo called PiYo a try; Wednesday you can dance and aerobicize to Zumba; Thursday the focus is on strength and conditioning with CrossFit.

Fitness in the Park is a collaborative effort between the City of Buckeye Community Services Department and Abrazo Community Health Network.

No need to pre-register, just arrive ready to workout during any of our four fun and energizing classes. For more information visit www.buckeyeaz.gov/recreation or call (623) 349-6350.


Quarter Auction Craze
08/26/2016
06:00 PM - 09:00 PM M
Dr. Saide Recreation Center
1003 E Eason Ave
Buckeye, AZ 85326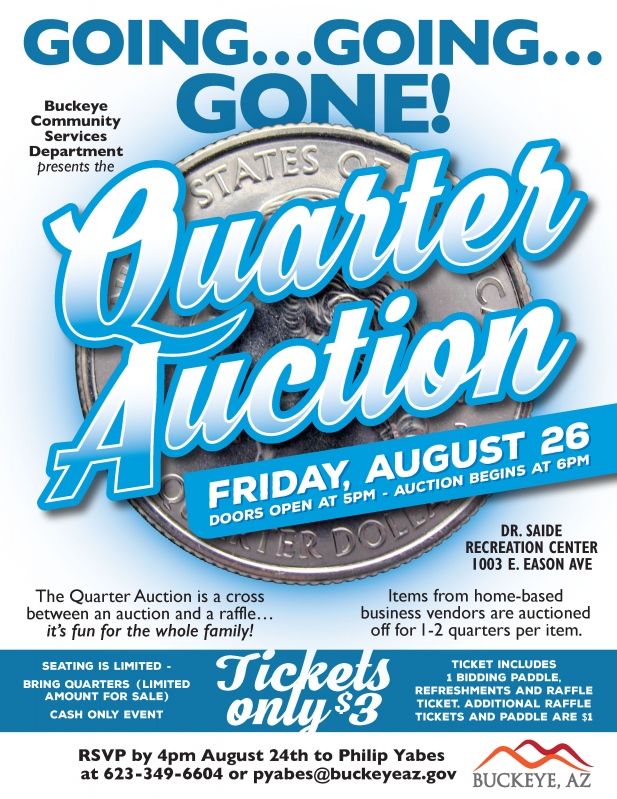 The Quarter Auction is a cross between an auction and a raffle…it's fun for the whole family!

Entrance Fee Includes
1 bidding paddle, refreshments and raffle ticket. additional raffle tickets and paddle are $1
Seating is limited - Bring quarters ( Limited amount for sale ). This is a cash only event.
Poker Tournament- American Legion Post 53 Buckeye
09/10/2016
04:00 PM - 10:00 PM M
402 East Narramore
Fundraiser Poker tournament
A DAY OF REMEMBRANCE
09/11/2016
12:00 PM - 03:00 PM M
Beth Emeth Congregation of the West Valley
13702 W Meeker Blvd
Sun City West, AZ 85375
Join us at Beth Emeth Congregation of the West Valley, 13702 W. Meeker Blvd, Sun City West on Sunday, September 11 at 12 Noon as we commemorate and pay tribute to our fallen heroes of 9-11-01.
We will honor those who gave their lives to protect and preserve our freedom.
Lunch will be served at 12 Noon followed by a ceremony at 12:30 PM.
The Civilian Air Patrol will present the colors followed by Berel Greenberg leading us in the Pledge of Allegiance. Rosemarie Abrami will lead us in singing our National Anthem accompanied by pianist, Betty Frank.
Rabbi Leo Abrami will open the tribute with a prayer followed by reading of scriptures by Rabbi Shelley Moss, Reverend Deanne Self Price and Pastor Stephen Beyer.
We will sing God Bless America and America the Beautiful.
Our guest speaker will be Congressman, Trent Franks.
Dessert will be served after the proceedings.
OPEN TO THE PUBLIC – THEIR WILL BE LIMITED SEATING. RESERVATIONS ARE REQUIRED AND THERE WILL BE NO WALK-INS. THERE WILL BE NO CHARGE.
Please call 623-584-7210 for reservations by September 2, 2016 M-F between 9 AM to 1 PM.
If you enjoyed A DAY OF REMEMBRANCE SERVICE – DONATIONS ARE GLADLY APPRECIATED.
Fundraiser Spaghetti Dinner & POW/MIA Recognition
09/16/2016
05:00 PM - 07:00 PM M
American Legion Post 53
402 East Narramore
Buckeye, AZ 85326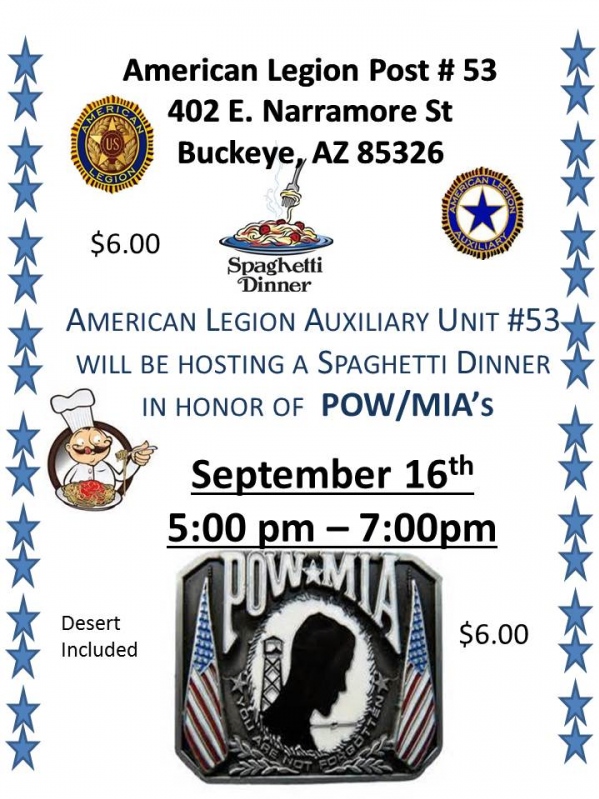 Amer. Legion Auxiliary Fundraiser Spaghetti Dinner & POW/MIA Recognition
Tour De Tonopah
10/01/2016
07:00 AM - 02:00 PM M
Tonopah Valley High School
38201 W Indian School Road Interstate 10 & Wintersburg Road
Tonopah, AZ 85323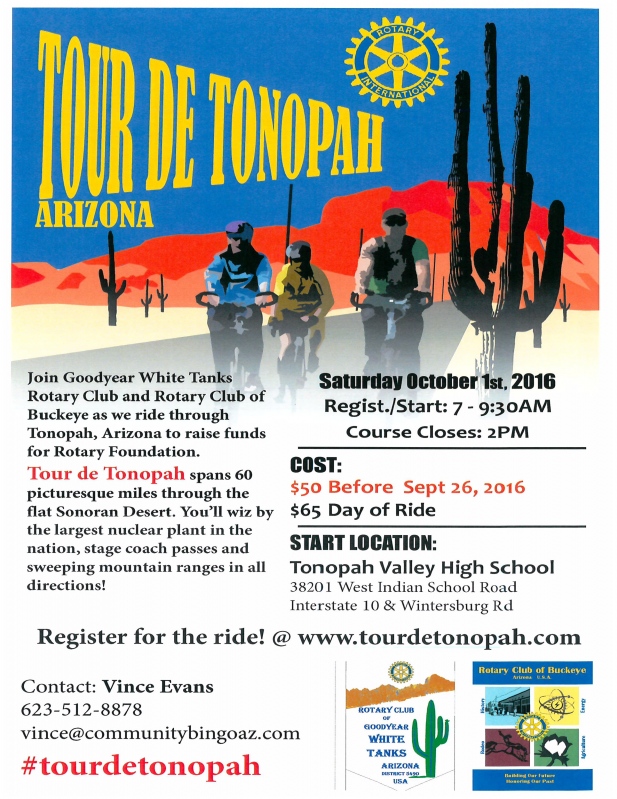 BUCKEYE OKTOBERFEST
10/08/2016
10:00 AM - 04:00 PM M
6th Street Plaza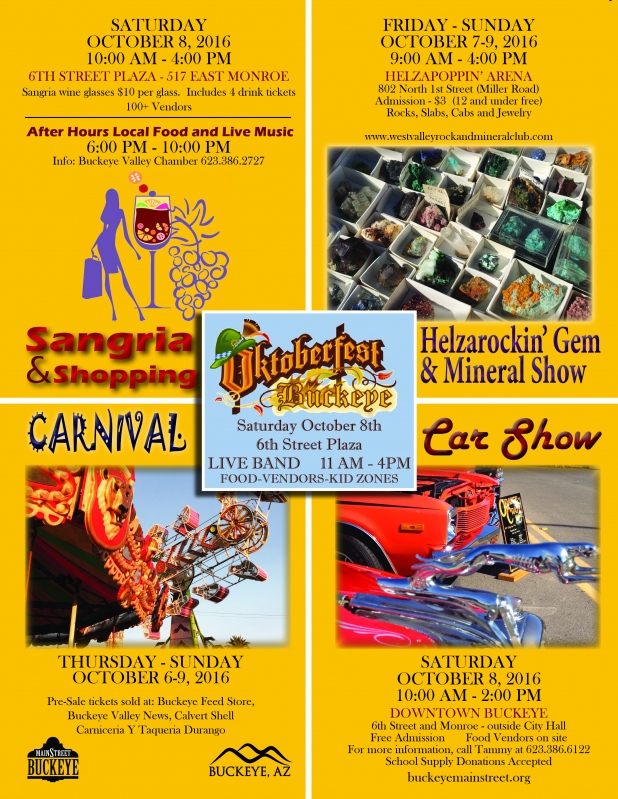 Sangria & Shopping
10/08/2016
10:00 AM - 02:00 PM M
6th Street Plaza
Corner of 6th Street and Monroe
Join us for a fun day of shopping and Sangria !
Sangria & SunSet
10/08/2016
04:00 PM - 09:00 PM M
6th Street Plaza
Corner of 6th and Monroe