4th Annual Dog Days of Buckeye
03/04/2017
09:00 AM - 01:00 PM M
Sundance Park
22865 West Lower Buckeye Road
Buckeye, AZ 85326
Bring the entire family and your 4 legged friend to the 4th Annual Dog Days of Buckeye. Sponsored by Abrazo West Campus, this free event features Adoptions, Dog Sitting, Doggie Day Care, Phoenix Disc Dog demonstrations, Zen K-9 Lure Agility Course, Buckeye Police Department K-9 demonstrations and the 8th Annual Chihuahua (and Chihuahua-mixed) Races. New for 2017 a Fashion and Rescue Runway Show and Pooch Pie Eating Contest are being held.
Stargazing for Everyone
03/04/2017
07:30 PM - 09:30 PM M
Skyline Regional Park
2600 N Watson RD
Buckeye, AZ 85396
Take a guided tour of the night sky with professional Stargazer's, Tony and Carole La Conte, from Stargazing for Everyone, on Saturday, March 4 starting at 7:30 p.m. at Skyline Regional Park in Buckeye as they bring the universe, planets to you!

Learn how to use a sky map, the names and meanings of the stars, see the constellations and listen to stories of the night sky. View the moon, planets, star clusters, nebula, galaxies and more through large telescopes.

Guests are encouraged to bring binoculars for additional viewing and digital cameras to photograph planets through telescopes. Additional items to bring include flashlights with a red lens, water and chairs for comfort. The presentation will begin promptly at 7:30 p.m. There is no cost and reservations are not required, but come early. Attendees are encouraged to carpool as parking is limited.

Skyline Regional Park is located at 2600 N Watson RD in Buckeye (2 miles north of the I-10, Watson Road Interchange). For additional information, visit www.skylineregionalpark.com or phone (623) 349-6350. Join us on Facebook.

For additional information, please contact Recreation Coordinator, Adam Melle by phone at 623-695-6350 or email at recreation@buckeyeaz.gov.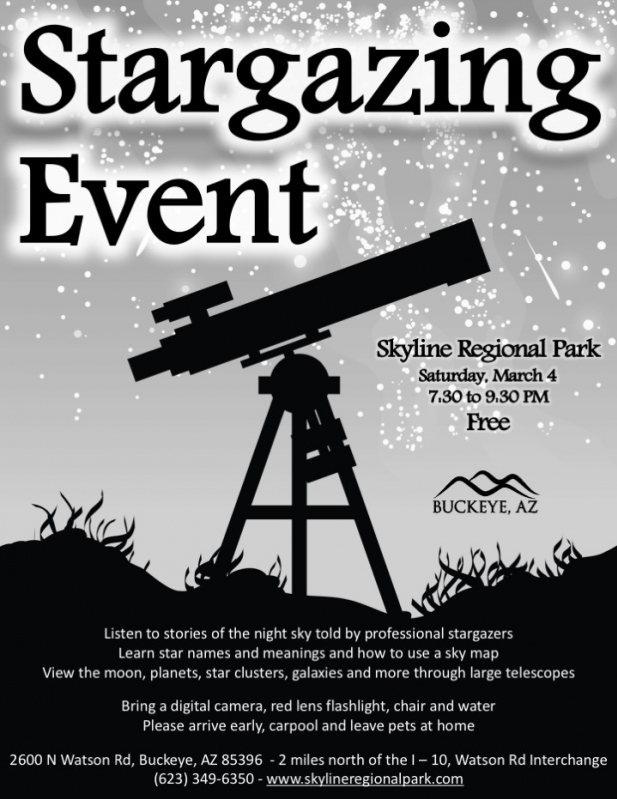 Citizens Police Academy
03/07/2017 M
100 N Apache Rd. suite # D
14111 S 203rd Lane
Buckeye, AZ 85326
Buckeye Citizen Police Academy

March 7th - April 11th 2017

Coyote Branch Library

Tuesday Evenings From 6 - 8:30pm
Movie in the Park - Tartesso Sports Park
03/10/2017
07:00 PM - 08:30 PM M
Tartesso Sports Park
30300 W. Tartesso Parkway
Buckeye, AZ 85396
Bring the kids and grandparents...hey, bring the entire neighborhood! It's time for the Movie in the Park featuring Disney*Pixar's Finding Dory (title subject to change). Food will be available for purchase; please bring your blankets and lawn chairs.


Free Concert - Sundance Park
03/17/2017
07:00 PM - 09:00 PM M
Sundance Park
22865 W. Lower Buckeye Rd.
Buckeye, AZ 85326
Come out to Sundance Park and bring the whole family; it's time for a fun filled evening of Bluegrass music with James Reams and the Barnstormers.

Food will be available for purchase; please bring your blankets and lawn chairs.
Concert is free - food vendors for a fee.

Ford Trimotor Tour
03/23/2017
09:00 AM - 05:00 PM M
Phoenix-Goodyear Airport
1658 S Litchfield Road
Goodyear, AZ 85338
Recall the energy, passion, and excitement of the Roaring '20s by flying aboard the Ford Tri-Motor. Known as the first luxury airliner, the Ford Tri-Motor redefined world travel and marked the beginning of commercial flight.

All flight ticket proceeds support the Experimental Aircraft Association, a non-profit organization dedicated to sharing The Spirit of Aviation with everyone. This tour stop at Phoenix-Goodyear Airport is hosted by volunteers of the local EAA 538 Chapter who are passionate about sharing the Ford Tri-Motor's stories.

We invite families to visit and learn all about our aircraft and our organization. Viewing the aircraft is free, so be sure to bring your camera along.

50th Annual Melodrama- Mister E at the San Linda
03/31/2017 M
Youngker High School
3000 South Apache Road
Buckeye, AZ 85326
The 50th Annual Melodrama is Nigh!!! "Mr. E at the San Linda", written by Caleb Elms and Debbie Hardesty is sure to delight crowds with laughter and misery expected. The play, presented by the City of Buckeye Community Services Department is being held at 7:00 p.m. Friday, March 31st and Saturday, April 1st at Youngker High School, 3000 South Apache Road.
Presaled tickets are available at the City of Buckeye Recreation Center- $5.00 for adults, $3.00 for children. Tickets will also be available at the door- $6.00 for adults, $4.00 for children. For more information call 623-349-6350 or visit www.buckeyeaz.gov/events
Free Concert - Festival Foothills Park
04/07/2017
07:00 PM - 09:00 PM M
Festival Foothills Park
26252 W. Desert Vista Blvd
Buckeye, AZ 85396
Come out to Festival Foothills Park and bring the whole family; it's time for a evening of culture and music that will take you back to the good old days of Big Band music. The DK Orchestra bring a variety of music that will have you tapping your toes in no time...who knows, you may even find yourself dancing!

Food will be available for purchase; please bring your blankets and lawn chairs.


Denim & Diamonds
04/29/2017 M