Free Concert - Festival Foothills Park
04/07/2017
07:00 PM - 09:00 PM M
Festival Foothills Park
26252 W. Desert Vista Blvd
Buckeye, AZ 85396
Come out to Festival Foothills Park and bring the whole family; it's time for a evening of culture and music that will take you back to the good old days of Big Band music. The DK Orchestra bring a variety of music that will have you tapping your toes in no time...who knows, you may even find yourself dancing!

Food will be available for purchase; please bring your blankets and lawn chairs.


City of Buckeye Spring Celebration
04/08/2017
09:00 AM - 01:00 PM M
Sundance Park
22865 West Lower Buckeye Road
Buckeye, AZ 85326
The annual Spring Celebration is sponsored by the City of Buckeye Community Services Department.and sponsored by KLove 89.1. Held at Sundance Park, 22865 Lower Biuckeye Road, the event is from 9 a.m. - 1 p.m.and features photos with Mr. and Mrs. Easter Bunny, face painting, train rides, bounce house, egg decorating, a petting zoo, pony rides and more.

The Easter Egg hunt starts at 9:30 a.m. with an "Eggstra Special Hunt for those with special needs followed by egg hunts for various age divisions.

The event is free however some activities may require fees to participate.

Homeowner Landscaping 101
04/22/2017
09:00 AM - 11:00 AM M
Coyote Branch Library - Programming Room
21699 W. Yuma Rd. Ste. 116
Buckeye, AZ 85326
Want to be inspired by local resources and fresh ideas in landscaping? The Buckeye Community Services Department has partnered with West Valley Rock, Preach Building Supplies and Gillespie Pest Services. This diverse group is the perfect resource for creating curb appeal or a backyard oasis. If you have questions about your current yard, or if you are interested in a fresh new look, maybe an outdoor BBQ or fire pit, these are the guys you want to talk to. Pre-registration is requested. Send an email to rwisener@buckeyeaz.gov or call 623-349-6621.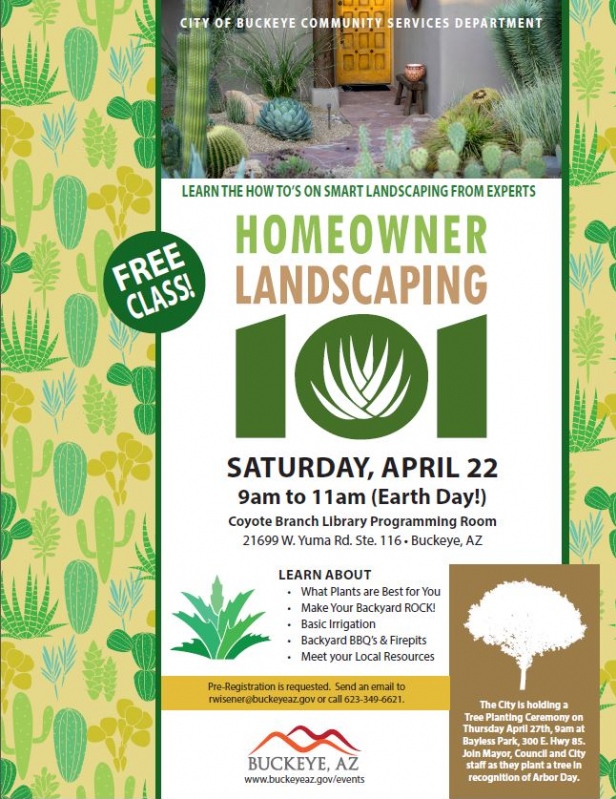 Denim & Diamonds
04/29/2017 M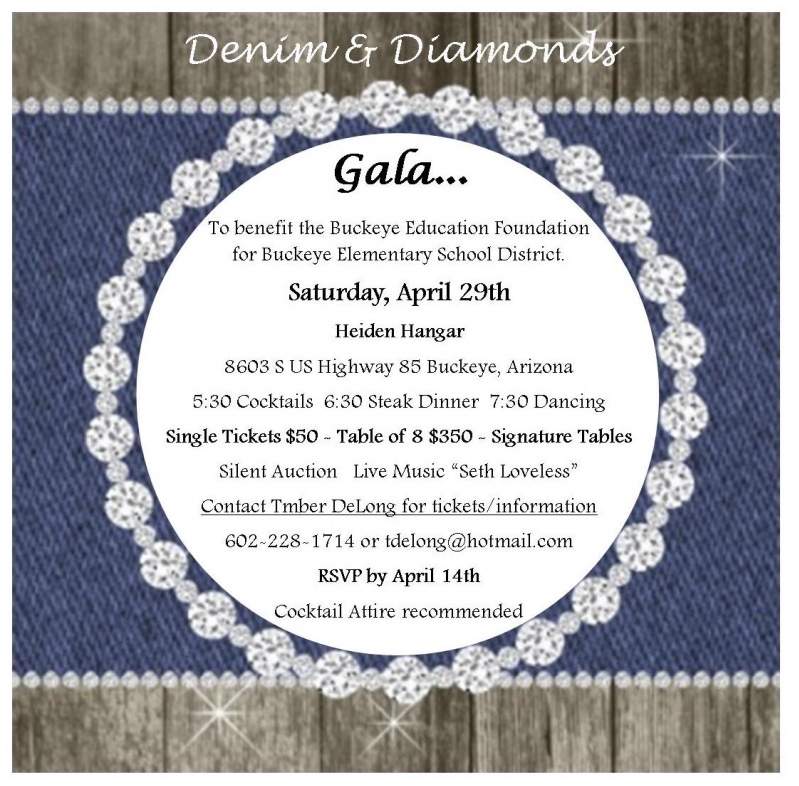 Golf for Joy (benefitting Meals of Joy)
05/20/2017
07:00 AM - 02:00 PM M
Tuscany Falls Golf Course at Pebble Creek
16262 Clubhouse Drive
Goodyear, AZ 85395

Support Meals of Joy by sponsoring or playing in the Golf for Joy Tournament on Saturday, May 20th, 2017
Location:
Tuscany Falls Golf Course at Pebble Creek
16262 Clubhouse Drive
Goodyear, AZ 85395
Green Fees
Foursome: $450 Individual: $125
Pebble Creek Members $95
Includes cart, range balls and lunch
Prizes
Contest Prizes for Longest Drive and Closest to the Pin
Individual Prizes for 1st, 2nd & 3rd Place Finishers
Eagle Sponsor (exclusive): $5,000
Receive recognition in all tournament promotion and collateral. Tournament Day Signage, on Meals of Joy Website, Tee Box Signage, four raffle/mulligan ticket packages and Two Foursomes.
Birdie Sponsor (multiple): $3,500
Receive recognition in Tournament Day of Signage, Tee Box Signage, on Meals of Joy Website, four Raffle/Mulligan Ticket Packages and a Golf Foursome.
Awards Luncheon Sponsor: $2,500
Receive recognition at the Awards Luncheon, on Meals of Joy Website, Tee Box Signage and a Golf Twosome.
Golf Cart Sponsor: $900
Receive recognition on all Golf Carts, on Meals of Joy Website, and a Golf Twosome.
Team Sponsor: $625
Receive recognition on Tee Box Signage and a Golf Twosome.
Hole Sponsor: $150
Receive recognition on a Tee Box Signage - No Golf.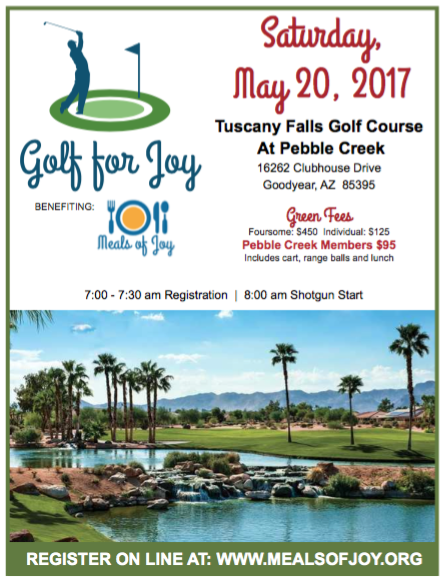 City of Buckeye Memorial Day Ceremony
05/29/2017
09:00 AM - 09:30 AM M
Louis B. Hazelton Memorial Cemetery
23100 W. Broadway Rpad
Buckeye, AZ 85326

The Memorial Day Ceremony will take place at Louis B. Hazelton Memorial Cemetery located at 23100 W. Broadway Rd., Buckeye, Az 85326, at 9:00am, Monday, May 29th. The City of Buckeye, in partnership with the local American Legion, Daughters of the American Revolution, Elks Lodge and the Veterans of Foreign Wars, along with the caring staff and volunteers at the Cemetery, put on a vivid display of red, white and blue, coupled with subtle ceremonial reminders of the reason for the day; giving honor to the fallen who bravely served the United States of America.
West Valley Gives
06/24/2017
10:00 AM - 02:00 PM M
University of Phoenix Stadium
1 Cardinals Dr.
Glendale, AZ 85305
A fundraising event on Saturday, June 24, 2017, to benefit a West Valley nonprofit organization. University of Phoenix Stadium, VisitGlendale, and WESTMARC partnered together to create an inspiring community outreach event. This year's financial recipient is Treasure House, co-founded by Kurt & Brenda Warner. The Warners believe all people, regardless of ability, have a call for their lives, and the ability to participate in meaningful and challenging activities. Treasure House will be a supportive living community for young adults with intellectual and developmental disabilities (IDD), to open by March 2018. The 30-unit residence will be built with donations from generous individuals, corporations and foundations, as it is not a recipient of government funding. The opening ceremonies to include Presenting of the Colors by the United States Marine Corps Color Guard and National Anthem by United States Navy Retired Petty Officer First Class, Steven Powell. The featured celebrities and honorary closing ceremony hosts will be Kurt Warner, two time NFL MVP, Super Bowl Champ, Hall of Fame inductee, and wife Brenda Warner, speaker, philanthropist, New York Times best-selling author, United States Marine, and mother of seven children. The event includes a family fun treasure walk inside the cool, air conditioned stadium, vendor fair, live music, activities for all ages, and a raffle for a chance to win a Kurt Warner autographed football or helmet. There will also be appearances by the Arizona Cardinal, Cheerleaders and the team mascot, Big Red.
Independence Day Celebration
07/04/2017
06:00 PM - 10:00 PM M
Youngker High School
3000 South Apache Road
Buckeye, AZ 85326

The City of Buckeye in conjunction with the Buckeye Main Street Coalition present an opportunity for families and friends of all ages to come together to celebrate the birthday of our great nation. The Independence Day Celebration will take place at Youngker High School, 3000 S. Apache Rd., Buckeye, Az 85326, on Tuesday, July 4, starting at 6:00pm, with a spectacular fireworks display scheduled for 9:00pm. Free watermelon, assorted food vendors, water and bounce activities for a fee will be available, as well as live music from 7:00 – 9:00pm. Free admission and parking.