Homeowner Landscaping 101
04/22/2017
09:00 AM - 11:00 AM M
Coyote Branch Library - Programming Room
21699 W. Yuma Rd. Ste. 116
Buckeye, AZ 85326
Want to be inspired by local resources and fresh ideas in landscaping? The Buckeye Community Services Department has partnered with West Valley Rock, Preach Building Supplies and Gillespie Pest Services. This diverse group is the perfect resource for creating curb appeal or a backyard oasis. If you have questions about your current yard, or if you are interested in a fresh new look, maybe an outdoor BBQ or fire pit, these are the guys you want to talk to. Pre-registration is requested. Send an email to rwisener@buckeyeaz.gov or call 623-349-6621.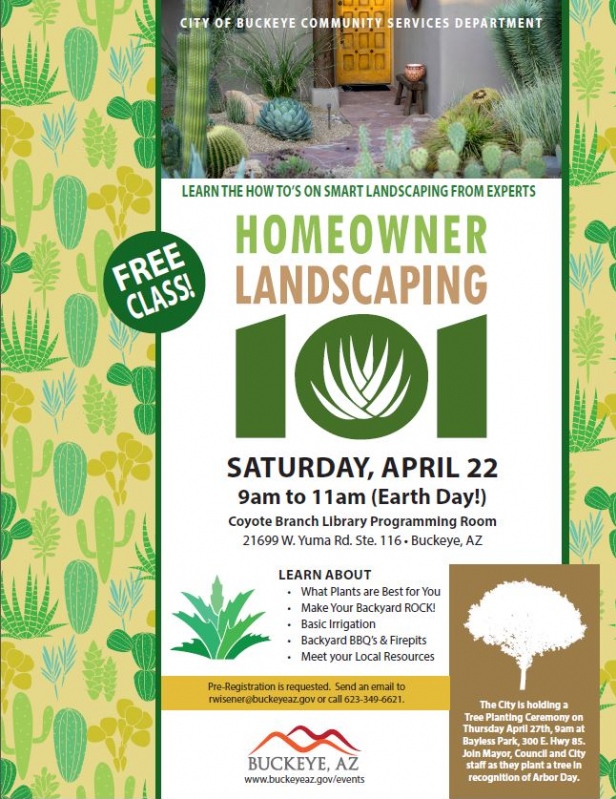 Bike Buckeye
04/22/2017
09:00 AM - 12:00 PM M
Skyline Regional Park
2600 North Watson Rd
Buckeye, AZ 85396

Are you interested in the sport of mountain Biking? On Saturday, April 22 from 9am to 12pm the City of Buckeye, Recreation Division will be hosting its 2nd annual free Bike Buckeye program from at Skyline Regional Park. BYOB (Bring your Own Mountain Bike) and learn from experienced mountain biking coaches to ride the trails! The first 100 participants receive a free Valley Bike Month T-shirt from Valley Metro and Trek Bicycle Store from West Phoenix will be onsite for general bike repairs and to answer questions. Snacks and other giveaways will be available.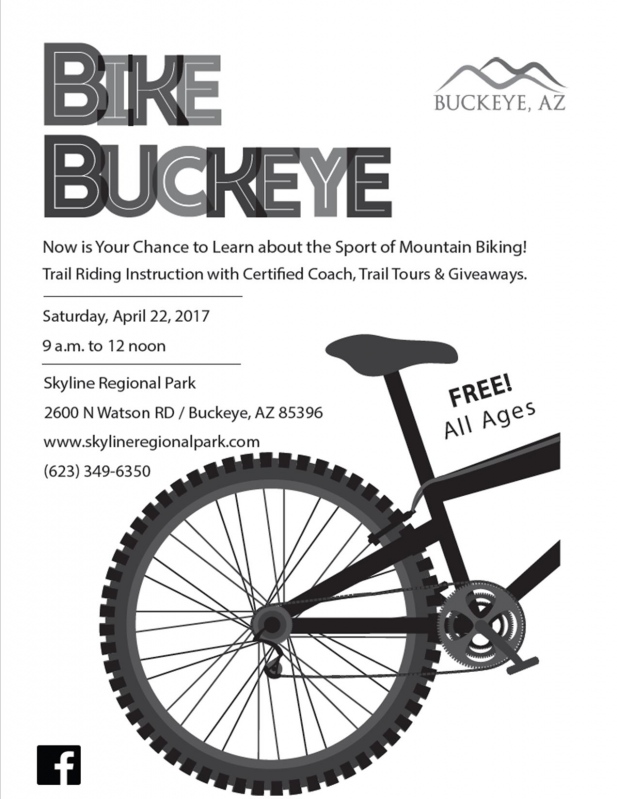 Denim & Diamonds
04/29/2017 M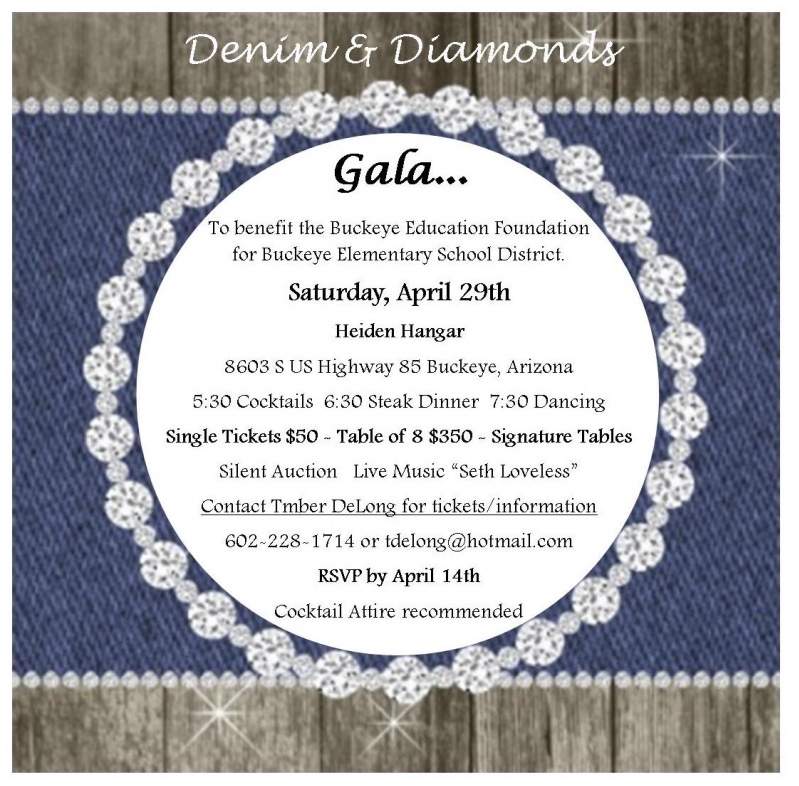 Avondale Fiesta
05/05/2017
05:00 PM - 10:00 PM M
Historic Avondale
495 E. Western Ave.
Avondale, AZ 85323
Avondale Fiesta is a free event that showcases culture, cuisine and entertainment inspired by the Cinco de Mayo holiday.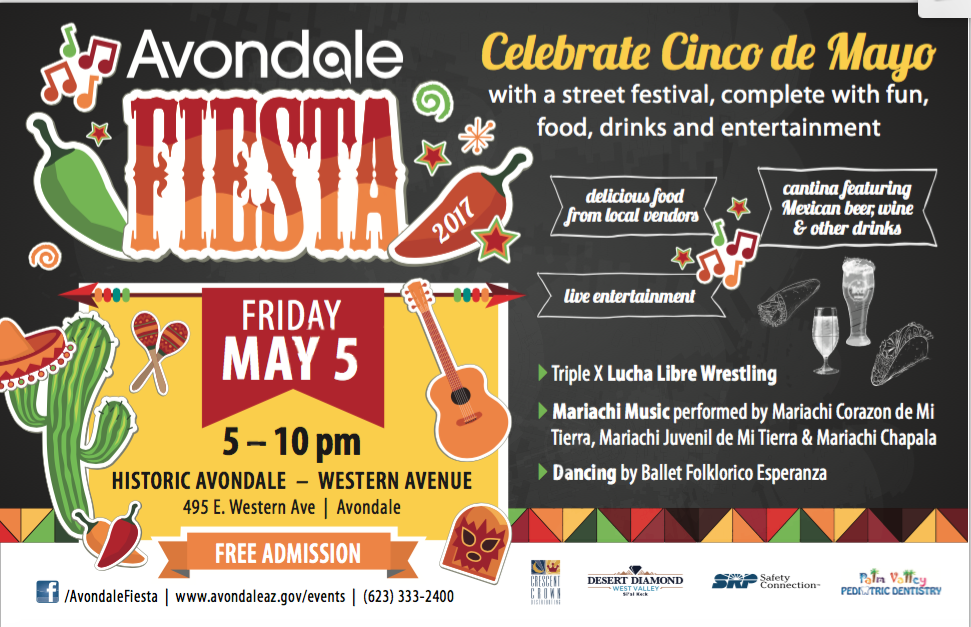 City of Buckeye Memorial Day Ceremony
05/29/2017
09:00 AM - 09:30 AM M
Louis B. Hazelton Memorial Cemetery
23100 W. Broadway Rpad
Buckeye, AZ 85326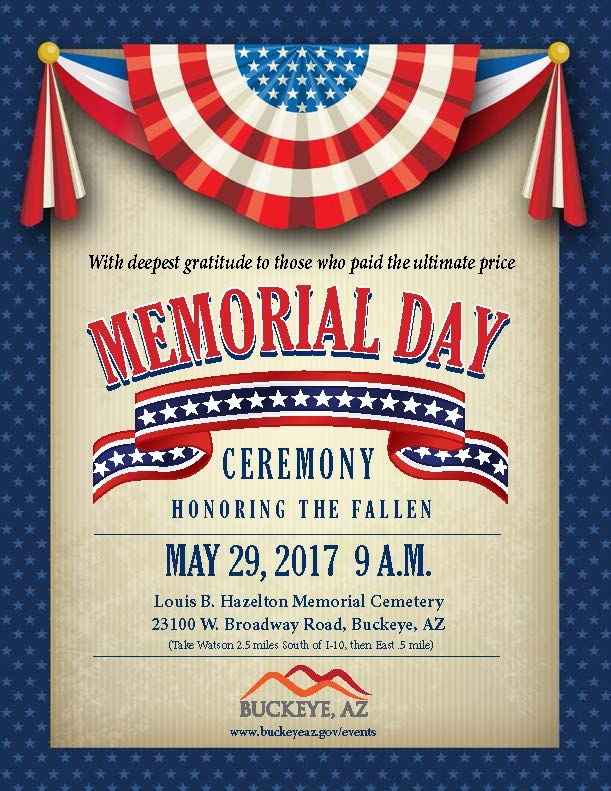 West Valley Gives
06/24/2017
10:00 AM - 02:00 PM M
University of Phoenix Stadium
1 Cardinals Dr.
Glendale, AZ 85305
A fundraising event on Saturday, June 24, 2017, to benefit a West Valley nonprofit organization. University of Phoenix Stadium, VisitGlendale, and WESTMARC partnered together to create an inspiring community outreach event. This year's financial recipient is Treasure House, co-founded by Kurt & Brenda Warner. The Warners believe all people, regardless of ability, have a call for their lives, and the ability to participate in meaningful and challenging activities. Treasure House will be a supportive living community for young adults with intellectual and developmental disabilities (IDD), to open by March 2018. The 30-unit residence will be built with donations from generous individuals, corporations and foundations, as it is not a recipient of government funding. The opening ceremonies to include Presenting of the Colors by the United States Marine Corps Color Guard and National Anthem by United States Navy Retired Petty Officer First Class, Steven Powell. The featured celebrities and honorary closing ceremony hosts will be Kurt Warner, two time NFL MVP, Super Bowl Champ, Hall of Fame inductee, and wife Brenda Warner, speaker, philanthropist, New York Times best-selling author, United States Marine, and mother of seven children. The event includes a family fun treasure walk inside the cool, air conditioned stadium, vendor fair, live music, activities for all ages, and a raffle for a chance to win a Kurt Warner autographed football or helmet. There will also be appearances by the Arizona Cardinal, Cheerleaders and the team mascot, Big Red.
Independence Day Celebration
07/04/2017
06:00 PM - 10:00 PM M
Youngker High School
3000 South Apache Road
Buckeye, AZ 85326

The City of Buckeye in conjunction with the Buckeye Main Street Coalition present an opportunity for families and friends of all ages to come together to celebrate the birthday of our great nation. The Independence Day Celebration will take place at Youngker High School, 3000 S. Apache Rd., Buckeye, Az 85326, on Tuesday, July 4, starting at 6:00pm, with a spectacular fireworks display scheduled for 9:00pm. Free watermelon, assorted food vendors, water and bounce activities for a fee will be available, as well as live music from 7:00 – 9:00pm. Free admission and parking.