The Winners of the Estherville Sweet Corn Days Parade Float Contest were:
Commercial - Northwest Bank
Non-Commercial - Float Away Scloderma
Congratulations on two fantastic floats! If you'd like to know how to participate next year give us a call!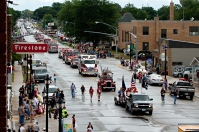 Duck Derby Winners this year were:
Gail Jasper - $500
Dar Lewis - $100
August Crosby - $100
Congrats! Thank you to all who participated and supported SCD by buying a Duck!