Register For Upcoming Events:
Chamber Offices Closed
Thurs. November 28 & Fri. November 29
---
Awards & Holiday Luncheon at Andre's West
Wednesday, December 4th | 11am - 1pm
$20 Members // $25 Non-Members
RSVP by Monday, December 2nd
Sponsored by: On Target For Profitable Growth
Join your fellow Chamber Members at the annual Awards & Holiday luncheon! We will close out the year with a festive event at which we will celebrate and recognize those that make the Fenton Chamber so dynamic.

Please bring canned goods or non-perishable food items to help us collect items for our two food pantries: Circle of Concern and Feed My People.



Wrap-A-Wreath Fundraiser: Attendees will also have the opportunity to purchase raffle tickets for a chance to win one of 12 decorated wreaths, donated by fellow Chamber members!​



---
Ribbon Cutting (New Business)
De Novo Home Decor Consignment & Gifts
Thursday, December 5th | 9:30am
948 Brookwood Center - Fenton
>>> Located next to Russell's
Join us for a Ribbon Cutting and sneak peek of new member, new Fenton business De Novo Home Furnishing! Located in the Brookwood Center plaza next to Russell's Bakery, De Novo is ready to open its doors to the Fenton community - just in time for the holidays - as a NEW place to buy or sell treasured items! Help us welcome owner Monica Feldt and those who have helped her get the doors open as she embarks on this new business adventure!​



---
Light Up the Valley at Delmar Gardens
Thursday, December 5th | 4:30 - 7pm
at Delmar Gardens - Meramec Valley
No Charge to Attend (spouses welcome)
Theme: Frost & Flannel - - Jingle and mingle with fellow Chamber Members and Delmar Gardens staff at their annual evening social event! All Chamber members are welcome (along with spouses) to enjoy Delmar Gardens' famously out-of-this-world hospitality with cocktails, hors d'oeuvres, delectable desserts and valet parking.​ This event is one of the best of the year - - you won't want to miss it!

---
Connect Over Coffee
at Office of Edward Jones - Matt Thomason
Friday, December 13th | 8am - 9am
900 South Highway Drive, Ste 101 - Fenton
No Charge // RSVP using link below
Join us at the office of Edward Jones financial advisor Matt Thomason for a festive holiday get-together! Meet/connect with office staff, members of the Fenton Chamber business community and guests in attendance. Enjoy light refreshments and coffee provided by our host. This is our last "Connect Over Coffee" for the year - let's make it a great one!!!​



Member-Submitted Community Events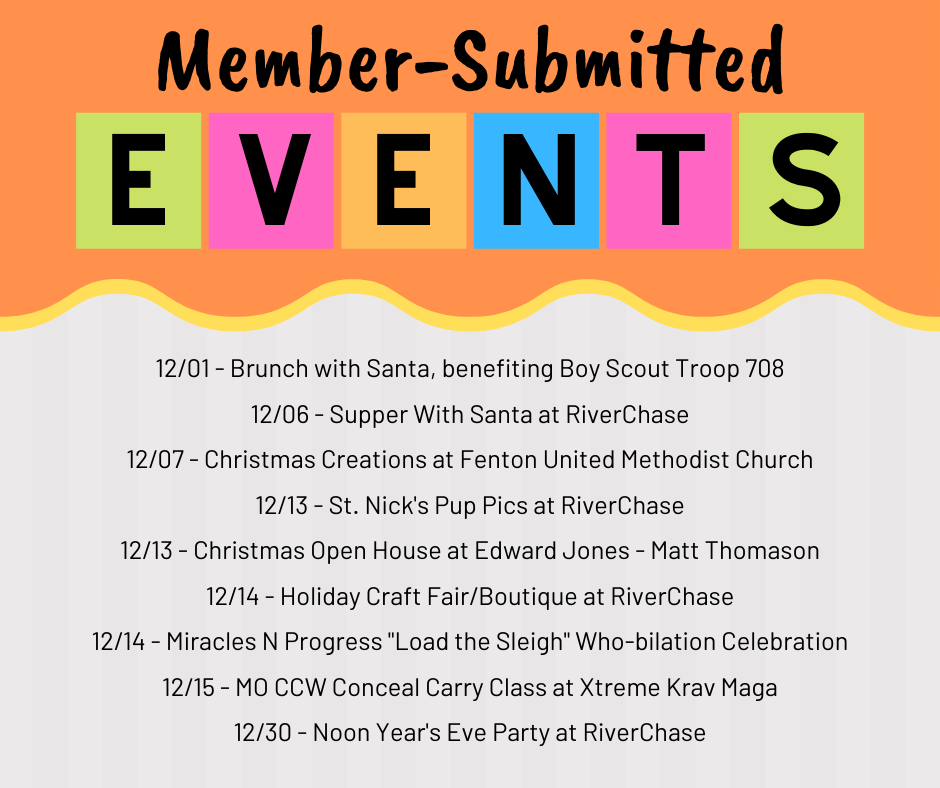 All Chamber Members can submit an event for the 'Community Events' calendar as part of their membership investment. To submit an event, click here.