Get Entered to Win a $50 Gift Card Package
RESTAURANTS NEED YOUR SUPPORT!!! WITH NEW COVID-19 RESTRICTIONS STARTING TUESDAY, IT'S TIME TO RALLY AROUND YOUR COMMUNITY!

We want to reward those who continue to support our area's food service providers while encouraging the broader community to do the same. Perhaps most important is to support these businesses SAFELY which includes wearing masks when in public, or ordering online; you might event consider purchasing gift cards to use later.
Here's the contest rundown. Please read details:
Contest runs thru Monday, November 16th

Visit/Order/Shop Online from a local food/beverage establishment in Fenton, Valley Park, High Ridge or Sunset Hills.

Snap a picture of your meal/order in any way that you choose (breakfast, lunch, dinner, anything).

Click here to share your photo by commenting on the giveaway post: upload your photo and tell us which business you patronized.

Random winner will be drawn Wednesday 11/18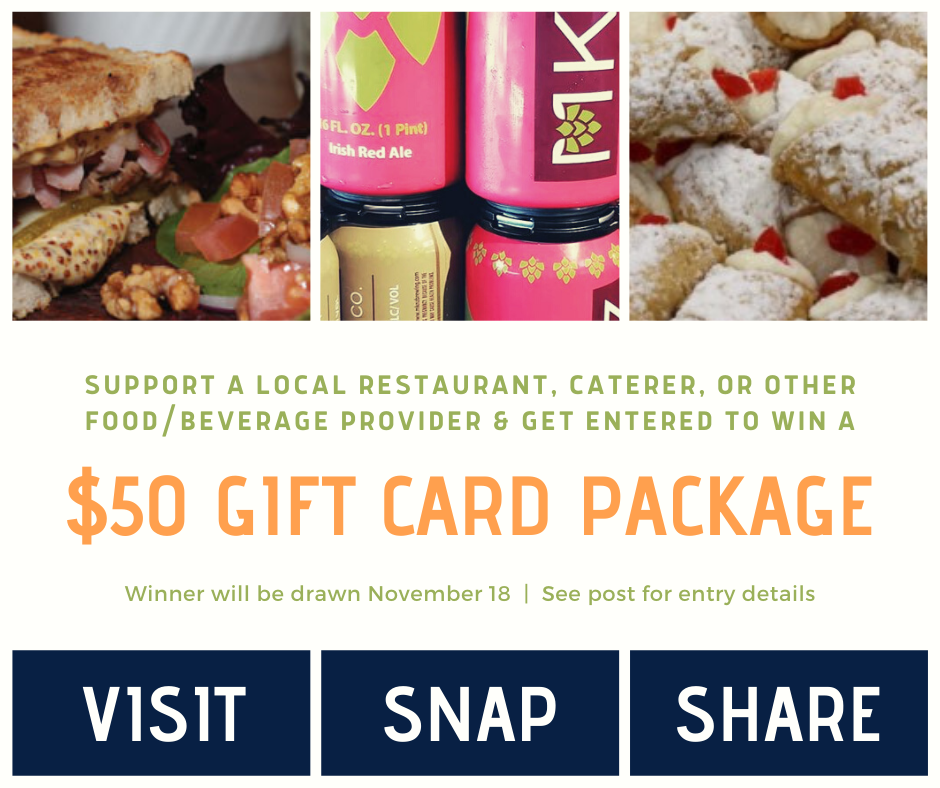 About Small Business Month:
Keep Cheer Here - Shop, Dine, Support Local
The mission of the Fenton Area Chamber of Commerce is to promote, support and represent business for the betterment of our members and the community. We are proud to lead the charge in support of local jobs and small businesses.

This holiday season - and all year round - we hope you will join us in making a difference in our community by supporting local businesses, including shopping retail, services, restaurants and more! We encourage you to spend time exploring all that Fenton has to offer.

Every time you visit a local business, you are helping not only that business, but you are supporting a business which gives back to their community, employs community members, and promotes doing business in Fenton. Let's continue to be a place that is thriving and growing for and because of our great business community!

For business owners: the Fenton Area Chamber of Commerce is here to provide a community of support, business resources, and promotion avenues for businesses. Our staff, board of directors and membership are focused and determined to help professionals grow, learn and build bountiful partnerships.
NEW!!! FACC "Proud Patron" Referral Card
How to Use the "Patron Referral Card"
(1) As a leave behind Gesture of Appreciation
- Simply leave the business card, along with yours, for the manager at a member's place of business. It's an easy way for you to let them know that you patronized their business. And later, they might do the same for you!
(2) As an added Social Media Tool
For Facebook or for Instagram (@fentonmochamber):
- Before you leave the card, be sure to take a photo of the card, or a fun selfie with it. Then post it to your favorite social media. But don't forget to tag the Fenton Area Chamber of Commerce Facebook page and Instagram as well as the business you are visiting on Facebook. Use the hashtag #ProudPatronFACC
>>> REQUEST "PROUD PATRON" CARDS HERE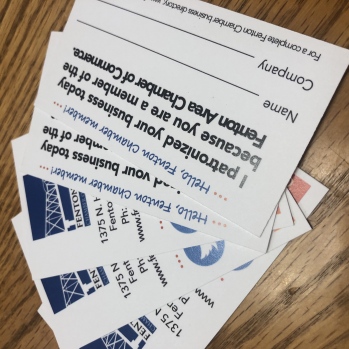 Opportunities for Small Businesses:
Holidays are quickly approaching and we want to give our small businesses an opportunity to share what they have to offer.
Here a few opportunities for small businesses:
- Publish a post to the "Find It In Fenton (Chamber)" Facebook group page
- Send an e-mail to (Kelly) with anything you would like to promote (coupons, offers, new items, gift ideas, etc).
- Storefront Shoutout... we'd be happy to stop by and do a short socially-distant interview (or Facebook Live broadcast) through which you would be able to promote your business or showcase retail items available for the holiday season. (Reply to this e-mail if interested)
- Did you know that you can upload a coupon to the Fenton Chamber website at no charge?
New St. Louis County COVID-19 Restrictions, Effective Tues 11/17
- Stay at home unless it is necessary to leave for specific activities such as going to work or school, seeking medical care, or buying food or other daily necessities.
- Exceptions are made for going to church, for visiting family members and for visiting members of your "support bubble" which can be no more than 10 people total (prev. 50), including family members or friends.
- With these bubbles, a person cannot belong to more than one group. Even when a group gathers, all participants should practice masking, social distancing and other steps to reduce the risk of transmission.
- And if any member of such a bubble gets sick, that person must immediately notify the other members. These are all requirements of the Safer at Home order.
- You and your family are safest if you stay at home. Any time you leave your home and interact with others outside of your household, you are at risk of being exposed to someone with the virus or exposing others to it, even if you have no symptoms. Anything you can do at home, please do so, including working remotely if possible.
- The order prohibits any gathering of more than 10 people, which is down from the current limit of 50.
- Restaurants cannot offer indoor dining. Outdoor dining, take-out, and delivery are allowed. Bars may only provide carryout and delivery.
- Businesses must reduce their capacity from 50% of the maximum allowed by the fire code to 25%.
- Exceptions such as hospitals, medical offices, and schools can be found in the order.
---
Face Covering Order (Amended)
- Face coverings MUST be worn by anyone older than 5 whenever you leave your house. This includes when visiting someone else's house. Exceptions can be made when eating, but only if a distance of at least six feet between diners is maintained.

- While 3 to 5-year-olds aren't included in the order, they are strongly encouraged to wear face coverings whenever possible.

- Included in this order is everyone at a gym, including those who are working out. If you are working out outdoors and can retain 6ft from others, masks are optional. If you are outdoors and under 6ft from others, the mask needs to be on.

- Participants in organized sports must wear a mask when not actively playing in a game. Also included are students in a school setting. Exceptions are made for students with medical issues and students who are eating, involved in PE or are in music class and socially distanced.

- Other exceptions in the order include anyone who has a medical condition that prevents wearing a mask, and anyone who is in the water at a public pool.
---
Quarantine & Isolation Procedure (Amended)
- Residents who test positive must immediately self-isolate. Those in contact with someone who is positive must self-quarantine.

- If you test positive for COVID-19, you must isolate for at least 10 days after the test or after the first symptoms. Immediately tell everyone that you were in close contact with and tell them to quarantine. Even if you were masked. Close contact is defined as being within six feet of someone who is positive for at least 15 minutes over the course of a day.

- If you were in close contact with someone who has COVID-19, you must quarantine for 14 days after the last contact with that person. If you come down with symptoms, get a COVID-19 test and remain quarantined.

- Take steps to notify anyone in your family, your friends or those in your workplace if you have tested positive and they may have been exposed. They would need to quarantine.

- The Department of Public Health also will not be providing Release from Quarantine letters to exposed contacts. Physicians will be authorized to provide both Release from Isolation and Release from Quarantine letters.

- Anyone who does not have a primary care physician to guide them if they have tested positive can contact the Department of Public Health and they will work with you.

- Schools, workplaces and others should not require a letter from the Health Department to return.
If there is anything we can do to provide assistance, please let us know. We will continue to promote, support and advocate for all Fenton Chamber businesses, especially during this difficult time.