Join the 30 minute Conversation
Tomorrow Morning!
---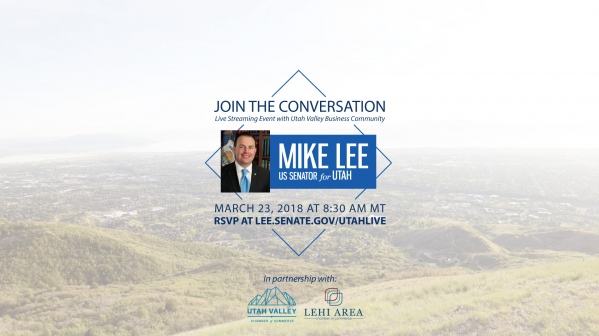 ---
Senator Mike Lee
and
The Lehi Area Chamber of Commerce
would like to invite you to participate in an upcoming
Access Live event!
Friday, March 23 at 8:30 a.m.

At this event, we look forward to discussing issues that uniquely influence Utah business. Over the past six months, we've seen the largest tax cut in a generation and a significant decrease in regulations coming out of Washington. However, there is still much to be done, especially in the realm of education and ensuring a diverse, skilled workforce. We look forward to hearing how these actions have affected you as well as what other issues you may be facing as a Utah business.

To receive a phone call at the time of the event, you can
register online now.
Those who want to stream the event live and participate in the discussion
on their computer or mobile device can
use this link when the event starts: lee.senate.gov/live

This is a rare opportunity to interact and learn firsthand from Senator Lee what is going on in Washington DC. This is where your membership really pays dividends! I would encourage you to make time Friday morning to participate. The event will likely run for about 30 minutes. Both the Lehi Area Chamber and the Utah Valley Chamber were invited to participate.

There is room for a few chamber members to attend in person, however seating is extremely limited. If you would like to attend in person, contact the chamber office for additional details.

The is no cost to participate!
This is the first time our chamber has participated in this type of event.
If the support is good, we may arrange to do this quarterly or semi annually!

Please Register ASAP so we can plan accordingly
Thank You!