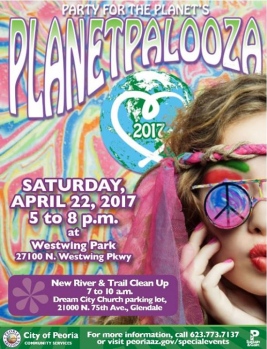 Click here for more information

---

Get Involved and Shape Peoria's Future

The city will be holding several community workshops where citizens can help ensure Peoria continues to be a great place to call home.

The public is invited to learn about the PlanPeoriaAZ General Plan Update and share views and ideas by attending an upcoming community workshop. The first series of community workshops will take place at three locations throughout the city for convenience.

visit

www.planpeoriaaz.com

for workshop information, upcoming events, documents, presentations, and more.
---

Help us Name Our New Park

Citizens can provide suggested names for Peoria's next community park. The city is currently in the planning stages for its third community park, which will be located east of Dixileta Road and Lake Pleasant Parkway. To submit name suggestions, visit

www.peoriaaz.gov/nameourpark

. The deadline for name submissions is Thursday, June 15. The finalists will be entered into a drawing for a new mountain bike.

---

Spend Your Summer in Peoria

Sign up for summer camp now, which is available for students who are in kindergarten through 14-years-old. Children can attend one to five days per week. Field trips, breakfast and snacks are included in the fees. Summer recreation is offered to those who are in first to fifth grade. This is a drop-in program, so children can sign themselves in and out of their own volition. Field trips and special activities are planned daily for an additional fee. Transportation from local elementary schools is provided at the beginning and end of the program.

Tiny Tots is the summer program for ages 4-5. Children can get a taste of childcare or aid in the development of social skills and fine and gross motor skills through active group names, crafts and daily field trips and events.

Lastly, the Step-Out Teen summer recreation program is for teens sixth through ninth grade. Participants will enjoy a full schedule of onsite activities, trips and more. Transportation from local elementary schools is provided at the beginning and end of each day. Step Out is a drop-in recreation program. Participants are required to sign in upon arrival and sign out when they depart. For all the details, call 623-773-7137 or visit

www.peoriaaz.gov/summeryouthprograms

.

---

Adult and Youth Summer Sports Open for Registration

Looking for something to do this summer? Join our adult and youth sports teams. Registration for adult flag football, softball and sand volleyball is now open.

The registration deadline for flag football is May 31 and the deadline for softball and sand volleyball is June 28. Registration for youth basketball and volleyball is also open. The last day to register is May 10. To register for both youth and adult sports, visit

www.peoriaaz.gov/recreation

.

For more information about the Peoria adult and youth sports leagues, visit

www.peoriaaz.gov/sports

or email

sports@peoriaaz.gov

. Also, be sure to follow and tag us on Instagram at @peoriaazsports.