Register Today for These Upcoming Chamber Events!
Networking Breakfast
Tuesday, May 16th
7:30 - 8:45 am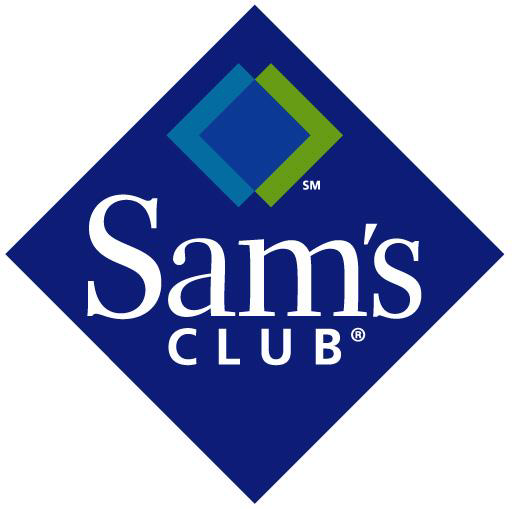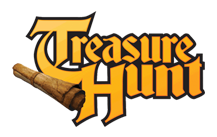 Something New, Something Fresh,
Something Exciting!!
Join in the Storewide Treasure Hunt and
WIN Prizes!
This exciting event will help you meet new people, grow your business and get a great idea of what SAM'S CLUB has to offer your business and our community!
This event is one not to miss!
$10 for members, $20 for future members
Sam's Club
18501 N 83rd Ave
Glendale, AZ 85308
REGISTER HERE
---

& LUNCH!
Tuesday, May 16th
11:30 - 1:00 PM
Marketing & Communication Series hosted by
Chris Amos of Dex Media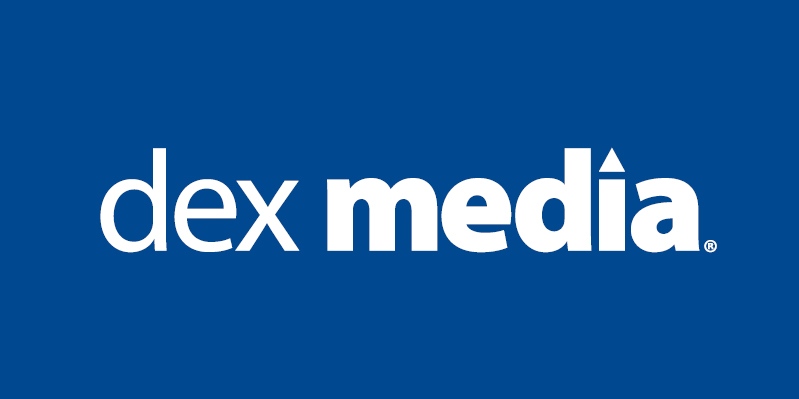 Class #1
"Social Media for Small Business"
Class registration is required.
Lunch will be provided!

FREE for current members
$10 for future members
Peoria Chamber of Commerce
8385 W. Mariners Way Ste 3
Peoria, AZ 85382

It should be noted that this program
is strictly educational in nature and will not
be a sales presentation for DEX Media



RSVP HERE FOR THIS CLASS
---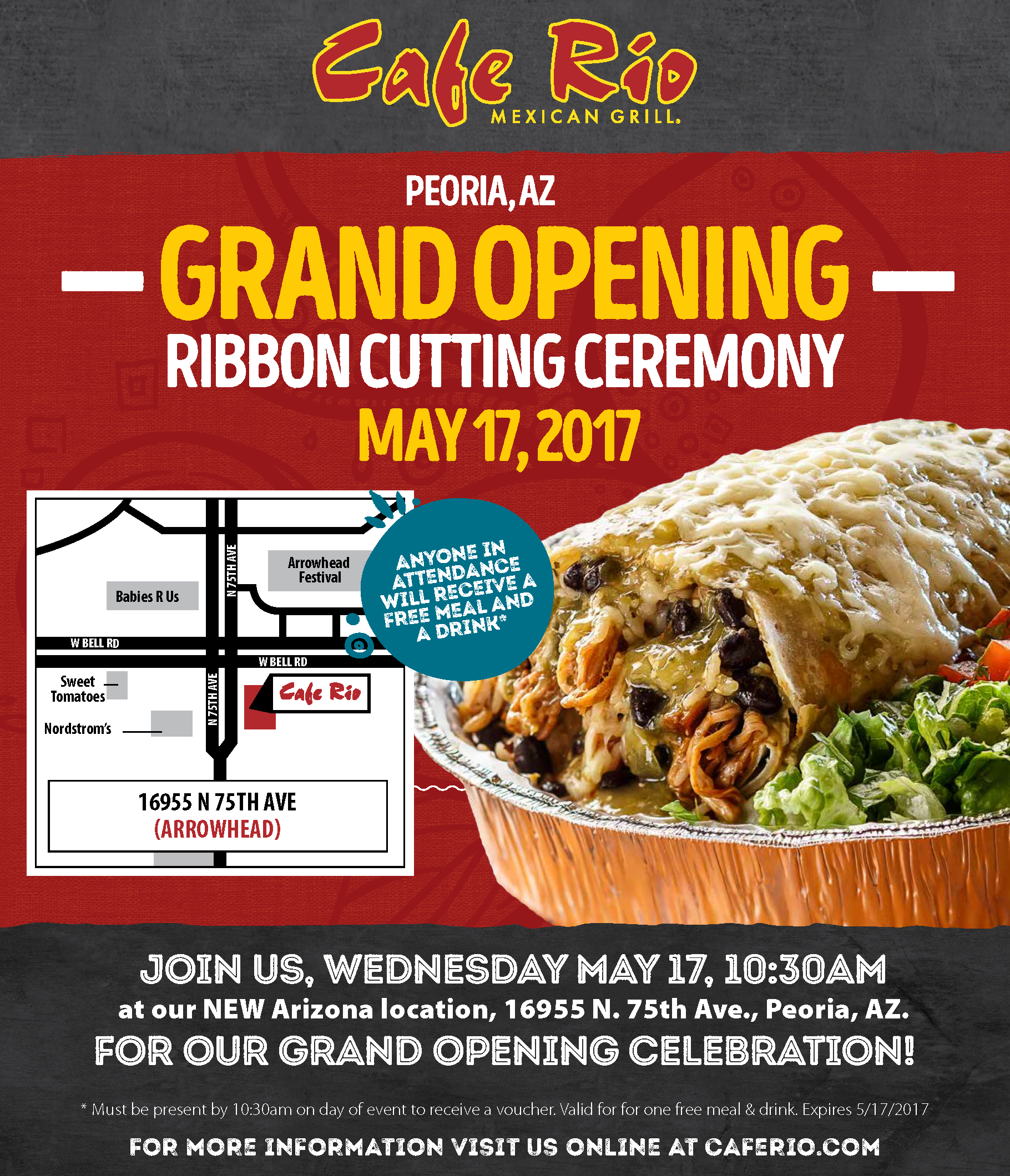 RSVP HERE FOR THIS EVENT
---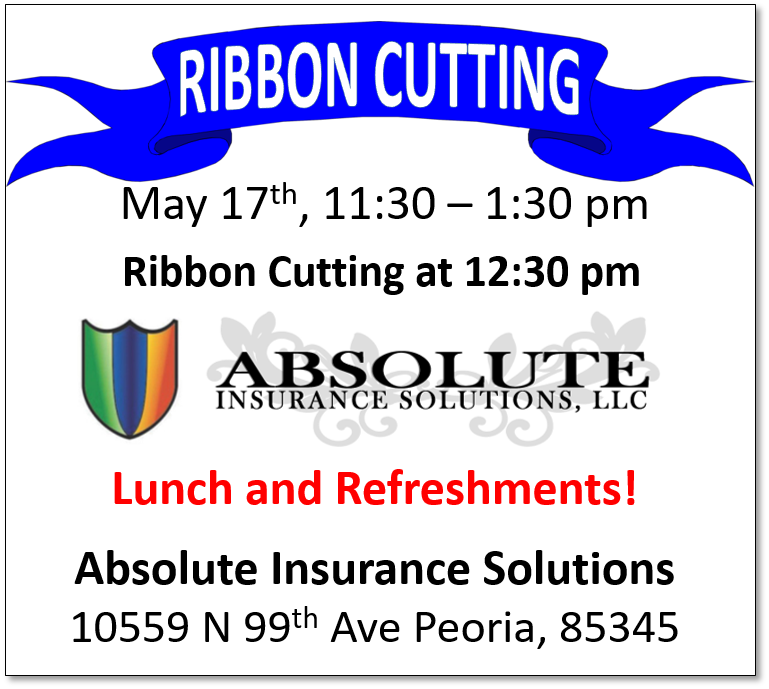 RSVP HERE FOR THIS EVENT
---
Don't Let Us Miss You at
Our BIG Joint Mixer!
Wednesday, May 17th 5:30 - 8:00 pm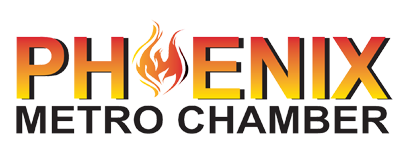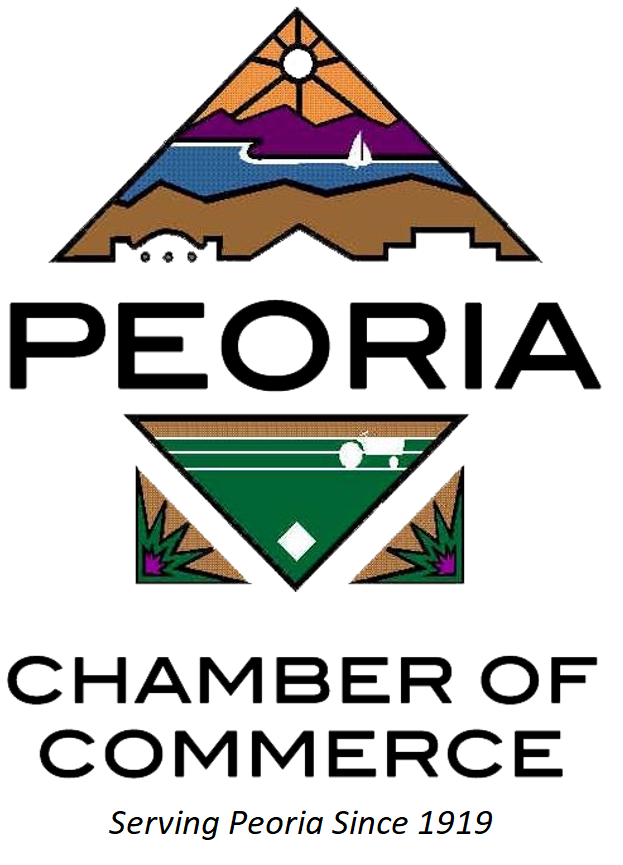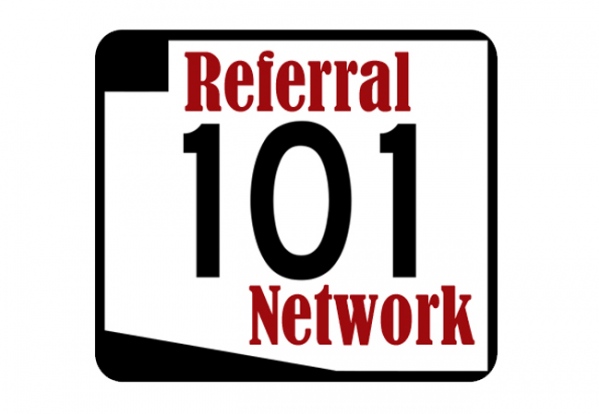 You're invited! We'd be delighted to see you at your Phoenix Metro Chamber's upcoming joint Elite Networking Mixer with the 101 Referral Network, Networking Phoenix and the Peoria Chamber or Commerce!

Food is provided with a cash bar.

NEW REQUIREMENT: YOU MUST PRE-REGISTER:
Admission to Peoria Chamber Joint Mixers is FREE for members if they pre-register, otherwise $5 at the door. Guest admission is $10 if pre-registered, or $15 at the door. Please pre-register by Noon the day before the event.


16405 N Scottsdale Rd,
Scottsdale, AZ 85254
RSVP HERE FOR THIS EVENT
---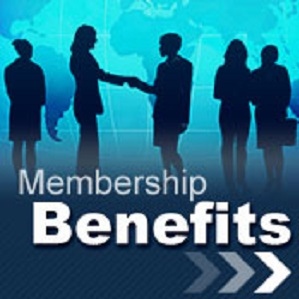 Join us for your

Member Benefits Meeting!
Thursday, May 18th
10:00 - 11:30 am
Peoria Chamber of Commerce
8385 W. Mariners Way Suite 3
Peoria, AZ 85382

All new and current members are invited to participate in this member benefits meeting to help acquaint (or re-acquaint) you with the Chamber, its website, and your personal member profile.

RSVP HERE FOR THIS MEETING
---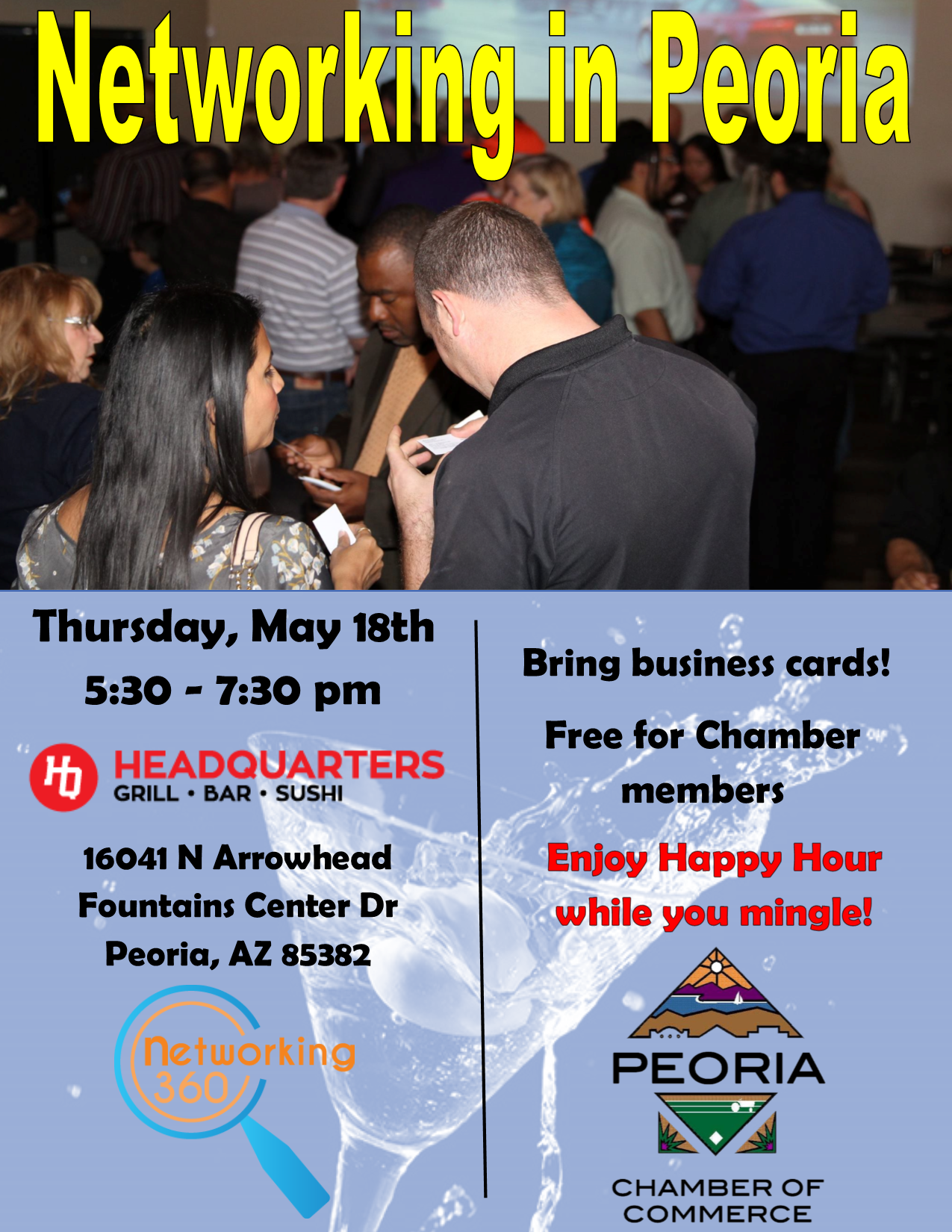 RSVP HERE FOR THIS EVENT
---

Friday, May 19th
8:15 am - 9:30 am
Please join us for our next exciting meeting!
Our group has a lot of fun getting to know each other and learning how we can help each other grow!
May Breakfast Sponsor:
Linda-Lee Gillenwater

Guest Speaker:
Phyllis Strobel

Topic:
"Making the most of your marketing dollars"
Bring a friend!
RSVP HERE FOR THIS EVENT
---
Peoria Chamber Mixer
Wednesday, May 24th
5 - 7 pm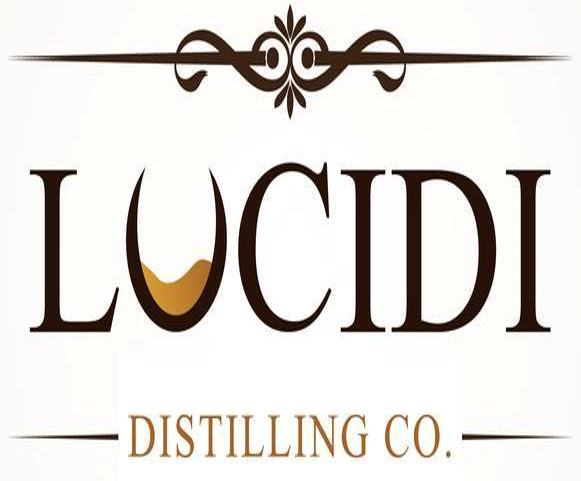 Join us for a fun evening at Lucidi Distilling Co! Meet Chamber members and business leaders while enjoying signature cocktails in the Historic Fire Station No. 1 in Old Town Peoria.
Don't miss happy hour drink specials with their craft-made spirits!
Lucidi Distilling Co
8307 W Washington St
Peoria, AZ 85345



RSVP HERE FOR THIS EVENT