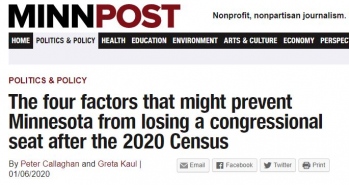 Minnesota is likely going to lose one of its seats in the U.S. House after the next round of reapportionment — when the allocation of congressional seats is redistributed based on the 2020 Census — dropping the state's current eight to seven.
It's not that Minnesota isn't gaining population; it just isn't gaining it fast enough compared to other states.
If Minnesota loses a seat in the U.S. House, it will be the first time that's happened since 1960. As if that isn't already a blow to the state's collective self-esteem, Minnesota would then have fewer seats than Wisconsin. And have the same number as Alabama.

That's the bad news out of last month's release of state-by-state population estimates from the U.S. Census Bureau and a reapportionment analysis by Election Data Services, a Virginia-based political consulting firm.
The good news? There's still a shot that the state could hold on to its eight current seats.