***RECIPES***
White Bean & Chicken Soup w/ Tomatillos
Ingredients
2 tablespoons vegetable oil
1 onion, chopped
2 cloves garlic, minced
1 (14.5 ounce) can chicken broth
1 (18.75 ounce) can tomatillos, drained and chopped
1 (16 ounce) can diced tomatoes
1 (7 ounce) can diced green chiles
1/2 teaspoon dried oregano
1/2 teaspoon ground coriander seed
1/4 teaspoon ground cumin
2 ears fresh corn
1 pound diced, cooked chicken meat
1 (15 ounce) can white beans
1 pinch salt and black pepper to taste
Directions
Heat oil, and cook onion and garlic until soft.
Stir in broth, tomatillos, tomatoes, chilies, and spices. Bring to a boil, then simmer for 10 minutes.
Add corn, chicken, and beans; simmer 5 minutes. Season with salt and pepper to taste.


Salsa w/ Tomatillos
Ingredients
1 bunch cilantro, chopped
3 large fresh tomatoes, diced
1 red onion, diced
2 jalapeno peppers, seeded and chopped (optional)
2 tomatillos, diced
2 tablespoons lime juice
1 teaspoon hot chili sauce (such as Sriracha) (optional)
1 teaspoon freshly ground cumin seed
salt, to taste
corn tortilla chips
Directions
Mix Mix together the cilantro, tomatoes, red onion, jalapeno, tomatillos, lime juice, hot chili sauce and cumin seed in a large bowl. Season with salt to taste. Cover and refrigerate overnight before serving to blend flavors. Serve with tortilla chips.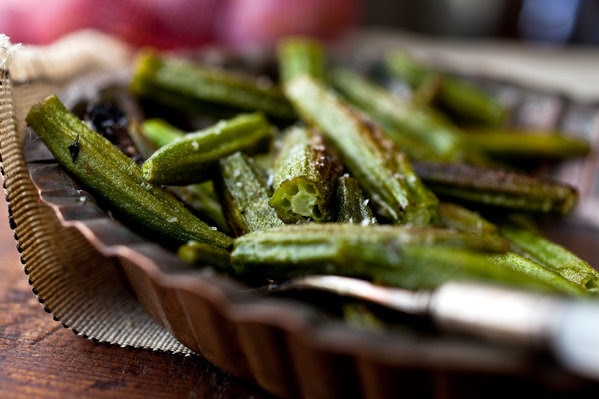 OKRA W/ RED PEPPER FLAKES

Ingredients

1 pound fresh, unblemished small okra

2 tablespoons olive oil

Red-pepper flakes

Salt and freshly ground black pepper


Preparation

Trim the stems off the ends of the okra, taking care not to cut into the interior of the pods.

Pour the oil into a large skillet over medium-high heat and allow it to heat until almost smoking.

Add the okra and red-pepper flakes to taste. Sauté until the pods have softened slightly,

but are still crisp and brightly colored, 6 to 7 minutes. Season with salt and pepper.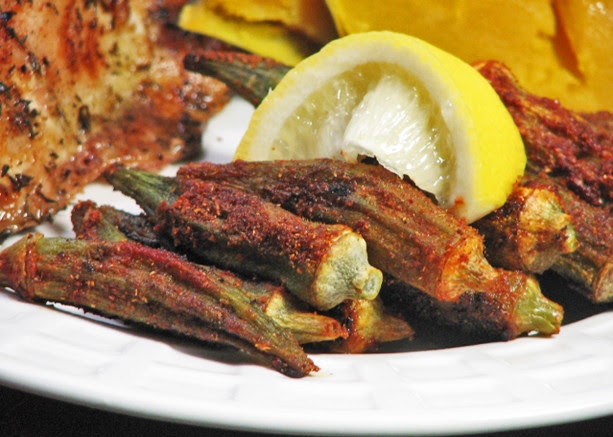 SPICY OKRA

Ingredients

12 ounces small okra (whole ~ if using frozen okra, allow it to thaw, then blot dry)

1 1⁄2 tablespoons olive oil

1⁄4 teaspoon ground coriander

1⁄4 teaspoon ground cumin

1⁄2 teaspoon smoked paprika

1⁄4 teaspoon cayenne pepper

1⁄2 teaspoon salt

4 lemon wedges (for garnish)


Directions

Preheat oven to 450°F.

Toss the okra with olive oil to coat.

In a small bowl combine coriander, cumin, paprika, cayenne pepper and salt.

Toss okra with spiced salt mixture.

Spread okra on a rimmed baking sheet and roast for 12 to 15 minutes, or until tender, turning once.

Serve immediately with lemon wedges (squeeze over each serving)!

Makes four servings.