Bears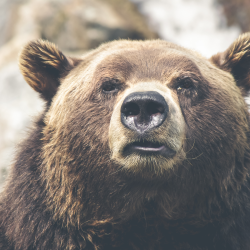 Bears in general are foragers and scavengers, and are very intelligent. On occasion, they become a potentially dangerous nuisance in and around campgrounds, by rooting through garbage, vehicles, and camping equipment in search of food. You can protect yourself from inconvenience and possible injury by following these simple guidelines.
Bears quickly learn to recognize cans, bags, and other containers like ice chests as food sources. Keep your food out of sight, preferably by locking it in your truck or covered in your vehicle with the windows completely closed. If your windows are open even a little, this gives the bear something to grab on to with its paws. If you have a Jeep or some type of vehicle that cannot be enclosed, hide and cover your food with a tarp outside of your campsite. DO NOT store food in your tent or where you sleep, not even a snack. Other products such as suntan oils, repellant, toothpaste, toiletries and cosmetics may attract a bear. If you have a rope, you can suspend a food bag between two trees, at least fifteen feet off the ground. If you hang food on a tree, the bear can merely climb up to it.
Like many animals, bears have an advanced sense of smell. Cooking greases, peanut butter, and any food product that has a smell may attract a bear. Soda pop and beer cans, even empty, contain sugars that are irresistible to bears. Use the trash cans rather than storing trash in your campsite. NEVER bury or burn garbage. Always try to keep a clean camp.
Choose another camping area if you see bears, dead animals or bear signs such as tracks, droppings or diggings. Be Alert!
Design your camp to keep sleeping area, tent, sleeping bags and personal gear at least 100 feet away from the cooking area. Never cook in your tent. Keep sleeping bags and personal gear free of food odors. Do not sleep in the clothing you wore while cooking, or keep them in your tent.
When hiking, stay alert for bears and give them a wide berth. The most dangerous situation is to come between a mother and her cub. If you see cubs, look for the mother, don't cross between mom and her cubs, and back off slowly.
Please do not try to feed or pet bears or leave bait out in order to photograph them. While you are standing there with your camera, one of the bear's friends may be coming up behind you; so it really pays to be careful. Be Alert!
Since dogs antagonize bears, you need to leash your pet at all times. If allowed to run loose, your dog may meet up with a bear, and then lead it back to you! Also, it's possible your dog may be injured or killed by bears.
Bears have very good memories, and they are very persistent. Once they learn where to find human food they will return again and again. They are very strong and can easily tear open cans, coolers, ice chests, and even car doors. Being unpredictable, they may change from docile to aggressive mood quickly. Usually bears are most active in the evening and early morning. A very loud noise, such as loud banging of pots nad pans, or shouting may scare them away.
Do not throw things at them, or challenge them in any way!