About Us
When you book at the Graeagle Corner Barn, you have access to our indoor event barn as well as the surrounding grounds which enables you to easily mix and match our indoor and outdoor venues to host both your ceremony and reception in one location.
The Graeagle Corner Barn can accommodate 381 for sit down dinner inside the barn and up to 814 people for standing and theater seating.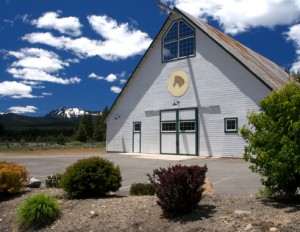 Site Rental Package Includes:
Corner Barn
5716 sq. ft. Barn with 32' high ceilings
Restrooms (Men's & Women's)
12 -55 gal Barrels
On-site Parking
2 Monitors with HDMI Hook-up
4 Propane Heaters
Chairs and Tables
240 Brown Folding chairs
250 White Resin Garden Chairs
30- 3×8 Rectangle Tables
12 Five-Foot Round Tables
Outdoor Features
The Tack Room – Outdoor Beverage Service
Two Ceremony Grounds – Corral and Forest
Metal Watering Troughs
To reserve a venue or for more information, please contact Graeagle Land & Water Co. at (530) 836-2523 or email venues@PlayGraeagle.com.
Graeagle Corner Barn Grounds
Testimonials
"Thank you to you for everything. We had a wonderful day yesterday and our guests absolutely loved the barn".– Jenny, CA Bride (Aug 2015)
"Thank you so much for having such a wonderful venue available to rent. The wedding was beautiful on Saturday and everything went without a hitch! The improvements that have been made are beautiful and I have already started to spread the word to family and friends about it". – Lisa Koch (May 2016)
"Just a quick note to say Thank you! We had a great time using the beautiful Corner Barn this weekend. It is such a perfect venue. We loved the work you had done in the back since we booked the date earlier in the year. We will all forever have happy memories"! – Sheri Barlow (July 2016)
"Had a wonderful wedding in the barn! Such a beautiful location and venue! All around great experience"! – Rebecca (2016)