Animals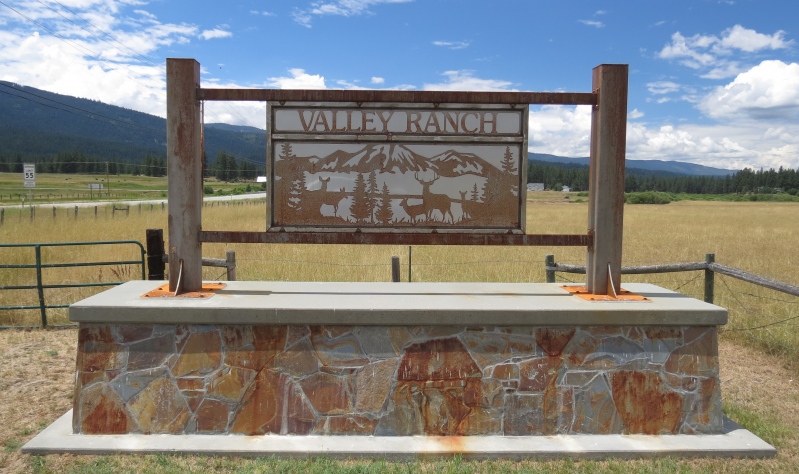 As our community expands and more people are here to enjoy the beauty of our environment, it is helpful to remind everyone of their responsibilities regarding pets.
Some common courtesy's to keep in mind:
1. The behavior of your pet is your responsibility.
2. While most people enjoy dogs, some have had bad experiences and may feel uncomfortable around your pet.
3. Be courteous of other property owners and get permission before walking your pet on their property.
4. Be responsible about picking up your pet's waste when walking in the common areas of Valley Ranch or on someone elses property.
Some information from the CC&R's:
Article 4.05 ANIMALS.
A. HOUSEHOLD PETS AND SMALL ANIMALS. HOUSEHOLD PETS SHALL MEAN DOMESTIC
ANIMALS CUSTOMARILY CONFINED WITHIN THE DWELLING UNIT. DOGS, CATS OR
OTHER CONVENTIONAL DOMESTIC HOUSEHOLD PETS MAY BE KEPT, PROVIDED THAT
THEY ARE NOT KEPT IN UNREASONABLE NUMBERS OR FOR ANY COMMERCIAL PURPOSE
AND ARE KEPT IN A MANNER AS NOT TO CONSTITUTE A NUISANCE TO OTHER OWNERS
OR OCCUPANTS. ALL PETS MUST BE KEPT WITHIN THE CONFINES OF A BUILDING
ENVELOPE OR ON A LEASH OR UNDER THE DIRECT CONTROL OF THEIR OWNERS. NO
PETS SHALL BE ALLOWED TO ROAM FREE AND UNATTENDED OR UNLEASHED WITHIN
THE PROJECT. AS USED IN THIS DECLARATION, "UNREASONABLE QUANTITIES"
SHALL ORDINARILY MEAN MORE THAN TWO (2) PETS PER HOUSEHOLD; PROVIDED,
HOWEVER, THAT THE ARCHITECTURAL COMMITTEE MAY DETERMINE THAT A
REASONABLE NUMBER IN ANY INSTANCE MAY BE MORE OR LESS. THE ARCHITECTURAL
COMMITTEE SHALL HAVE THE RIGHT TO PROHIBIT MAINTENANCE OF ANY ANIMAL
WHICH CONSTITUTES, IN THE OPINION OF THE ARCHITECTURAL COMMITTEE, A
NUISANCE TO ANY OTHER PROPERTY OWNER. FURTHERMORE, ANY OWNER SHALL BE
ABSOLUTELY LIABLE TO EACH AND ALL REMAINING OWNERS, THEIR FAMILIES,
GUESTS, TENANTS OR INVITEES, FOR ANY UNREASONABLE NOISE OR DAMAGE TO
PERSON OR PROPERTY CAUSED BY ANY ANIMALS BROUGHT OR KEPT UPON THE
PROPERTIES BY AN OWNER, OR BY MEMBERS OF HIS FAMILY, HIS TENANTS OR HIS
GUESTS. NOTWITHSTANDING THE FOREGOING, NOTHING HEREIN SHALL PREVENT THE
POSSESSION BY AN OWNER, OCCUPANT, LICENSEE, TENANT OR INVITEE OF A DOG
WHICH HAS BEEN TRAINED AND IS USED FOR THE PURPOSE OF A "SEEING EYE" OR
GUIDE DOG FOR THE BLIND OR THE USE OF TRAINED DOGS IN THE HERDING OF
LIVESTOCK WHERE LIVESTOCK ARE PERMITTED. EACH OWNER, OCCUPANT,
LICENSEE,TENANT OR INVITEE WHO MAINTAINS OR IS IN THE POSSESSION OF A
DOG SHALL HAVE THE ABSOLUTE DUTY AND RESPONSIBILITY TO IMMEDIATELY
REMOVE, IN A SANITARY MANNER, ALL DOG EXCREMENT FROM THE PROJECT.
ENFORCEMENT SHALL BE BY AN ANIMAL CONTROL SERVICE ACCEPTABLE TO THE
PLANNING DIRECTOR AND PAID FOR
THROUGH THE HOMEOWNERS ASSOCIATION. THE ARCHITECTURAL REVIEW COMMITTEE
SHALL HAVE THE RIGHT TO PROHIBIT DOMESTIC ANIMALS ON LOT 80 AS SET FORTH
ABOVE, HOWEVER, THIS PROVISION IS NOT INTENDED TO APPLY TO LIVESTOCK ON
LOT 80.
B. LIVESTOCK. SMALL ANIMAL HUSBANDRY, AS DEFINED IN TITLE 9 OF THE
PLUMAS COUNTY CODE SHALL NOT BE PERMITTED EXCEPT ON LOT 80.
LARGE ANIMAL HUSBANDRY, AS DEFINED IN TITLE 9 OF THE PLUMAS COUNTY CODE,
SHALL BE PERMITTED ON LOTS 1, 7, 8, 9, 10, 11, 12, 13, AND 25; BUT SHALL
BE LIMITED TO TWO HORSES WITH THEIR YOUNG (1 YEAR OLD OR LESS); EXCEPT
ON LOT 25, WHICH SHALL BE LIMITED TO HORSES AND CATTLE TO THE NUMBER
PERMITTED BY SECTION 9-2.209 OF THE PLUMAS COUNTY CODE.
LIVESTOCK SHALL BE PERMITTED ON LOT 80 AS PERMITTED BY THE ZONING.
NO PIGS OR ANY COMMERCIAL FEED OPERATIONS SHALL BE PERMITTED ON ANY LOT
IN THE PROJECT.