Contact Info
On Target For Profitable Growth
Lori St. Clair
1592 Gravois Road
High Ridge, MO 63049
Phone: 636-677-3710
Fax: 636-660-1433
Contact Form
Website:
www.getontargetnow.com
Photo Tour
Fundraisers We Support
Fenton Area Chamber of Commerce
NW Jefferson County Chamber of Commerce
Experts4Entreprenuers
Hours of Operation
Varies, but generally is 8am - 5pm Monday - Friday
About Us
TURN YOUR FINANCIAL DATA INTO INFORMATION THAT HELPS GROW YOUR BUSINESS
On Target for Profitable Growth is a CFO, accounting and bookkeeping outsource service that helps small- and medium-sized businesses reduce costs, streamline financial processes and pursue profitable growth.
CFO CONSULTING SERVICES
On Target's experienced professionals provide valuable insights into financial management issues
Growing companies often reach a point when their financial management needs to expand beyond the capabilities of their existing bookkeeping staff.
We provide organizations with experienced CFO-level talent on a part-time, outsourced basis at a fraction of the cost of a full-time employee. Your outsourced CFO is a professional who can jump in immediately to address pressing financial issues, mentor staff, and help you make critical decisions. Our advice will be candid, objective, encouraging and forward-thinking as we work together to help you avoid problems and make better decisions.
If profitable growth is your goal, we can provide the financial information and strategic guidance you need to pursue it.
Is something getting in the way of your company's success?
Our work with a variety of businesses and industries enables us to see which strategies for growth are most effective and how they might apply to your specific needs. From our objective vantage point, we can also often see opportunities for greater growth and profitability that you may have never considered.
In addition, we can help you obtain the helpful financial information you need to:
Assess operating decisions you've already made
Project the impact of future decisions
Streamline processes and improve bottom line performance
Evaluate competing opportunities
BOOKKEEPING AND ACCOUNTING SERVICES
Outsource your bookkeeping to On Target and you'll rest easy knowing that your financials are accurate and up-to-date
Our clients gain more than peace of mind when they outsource their bookkeeping and accounting to us – they also see improvement in their efficiency and profitability. Working with us can free up your staff's time for other responsibilities while also adding new levels of financial reporting that keeps you on top of customer payments and cash flow.
How it works
Outsourced bookkeeping is an especially good option for businesses that need help with their financial recordkeeping but not the services of a full-time bookkeeper. When you outsource with On Target, the process is simple:
You'll scan, fax or mail your invoices, deposit slips, expense receipts and bills to us.
We'll enter your transactions into QuickBooks and reconcile your accounts, which includes reviewing the deposits and payments on your bank statement to ensure your records agree with your bank records.
Your monthly fee includes single-user QuickBooks access through our secure server. This allows you to analyze reports, print checks and deposit slips and review your file from wherever you are – even as we make updates.
Why QuickBooks?
QuickBooks is the accounting and payroll software preferred by small- and medium-sized businesses. Its intuitive design is easy to understand – even for people without an accounting or financial background. It also integrates with Microsoft Excel and other programs, making it easy to import data.
QuickBooks is also versatile, giving you the ability to:
Track sales and expenses – Transactions are properly classified for tax purposes in the appropriate general ledger accounts.
Create and track invoices – QuickBooks makes it easy to maintain an accurate picture of your accounts receivables, helping you to stay on top of past-due invoices.
Make payments – Accounts payable features enables QuickBooks to track your bills and their due dates, helping you manage expenses and cash flow.
Access data securely – You can generate reports that provide an accurate picture of income and expenses with the click of a button.
QUICKBOOKS TRAINING
On Target's customized classes focus on the features that address YOUR needs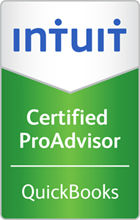 Your time is valuable. So why spend it on QuickBooks training that explains what you already know or features you'll never, ever use?
On Target customizes our training so you can learn how to use QuickBooks efficiently to address your business' specific needs. Training sessions can be one-on-one or for a group. Our experienced, hands-on trainers will teach you the ins-and-outs of its powerful features and how it can be a valuable tool in your planning and decision-making.
As Certified QuickBooks ProAdvisors, we can also help you set up your own QuickBooks system, get it up and running and provide ongoing QuickBooks support.
Training is available on:
QuickBooks Pro
QuickBooks Premier
QuickBooks Enterprise
Schedule your training session today by calling +1 (636) 677-3710.